A patio and a deck are two of the most popular options available to you when it comes to enhancing your outdoor living space. As an extension of our homes, these extensions provide a seamless connection between the indoor and outdoor environments while meeting different needs and aesthetic preferences at the same time. It is important to understand the difference between patio and deck in order for you to be able to make an informed decision about which one is most suitable for your lifestyle.
What is Patio?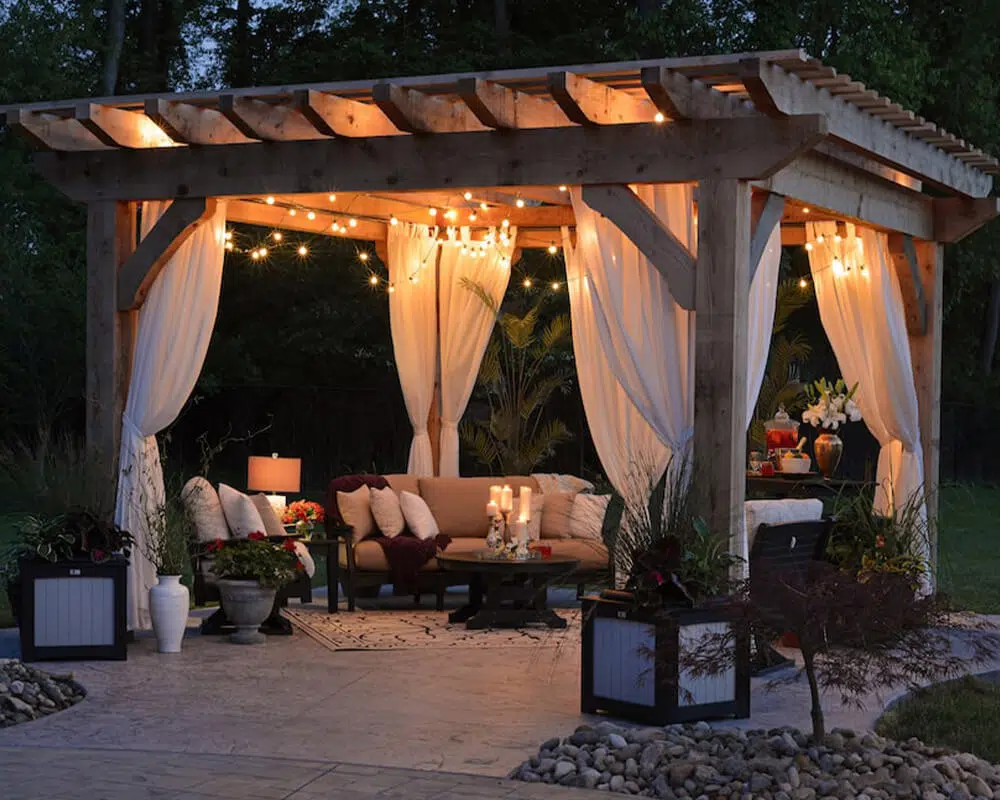 A patio is an outdoor living space that is attached or detached to a house or other building. It is typically paved or covered with gravel or stone and may be furnished with tables, chairs, and other outdoor furniture. Patios are often used for entertaining guests, relaxing, or enjoying the outdoors. They can be a great place to barbecue, picnic, or just sit and enjoy the fresh air. Patios can also be a great place to grow plants, flowers, or herbs. They can be a great addition to any home and can provide a space for relaxation and enjoyment.
Types of Patio
A patio is not just an outdoor space but a versatile area with various uses. It can serve as a spot for dining, cooking, socializing, relaxing, and more, with its style shaped by these activities. The four main patio styles are dining patios for outdoor meals and living room patios. Each type of patio caters to specific activities and needs, influencing its design, size, and placement.
Dining Patio
A dining patio is designed for outdoor meals, typically equipped with a dining table and chairs. It's usually located adjacent to an outdoor kitchen or close to the house for easy food access.
Living Room Patio 
This style resembles an outdoor living room, featuring comfortable seating arrangements, often with deep-seating patio furniture and sometimes a fireplace or fire pit. It provides a space for relaxation and socializing.
Bistro Patio
A bistro patio is perfect for small spaces, often accommodating a small table and two chairs. It's an ideal spot for cozy outdoor breakfasts and might incorporate a wall fountain for decoration.
Sundeck Patio
Positioned near a pool or scenic view, a sundeck patio is meant for soaking up the sun. It commonly features outdoor chaise lounges with cushions for relaxation and enjoyment of the outdoors.
Patios can be categorized into different types based on the material used to make the floors. These include Gravel, Sand, Concrete, Tile, Stone Slate, Pavement patios, and Flagstone Patios. While choosing fabric for your patio, always consider your area's climate. 
What is Deck?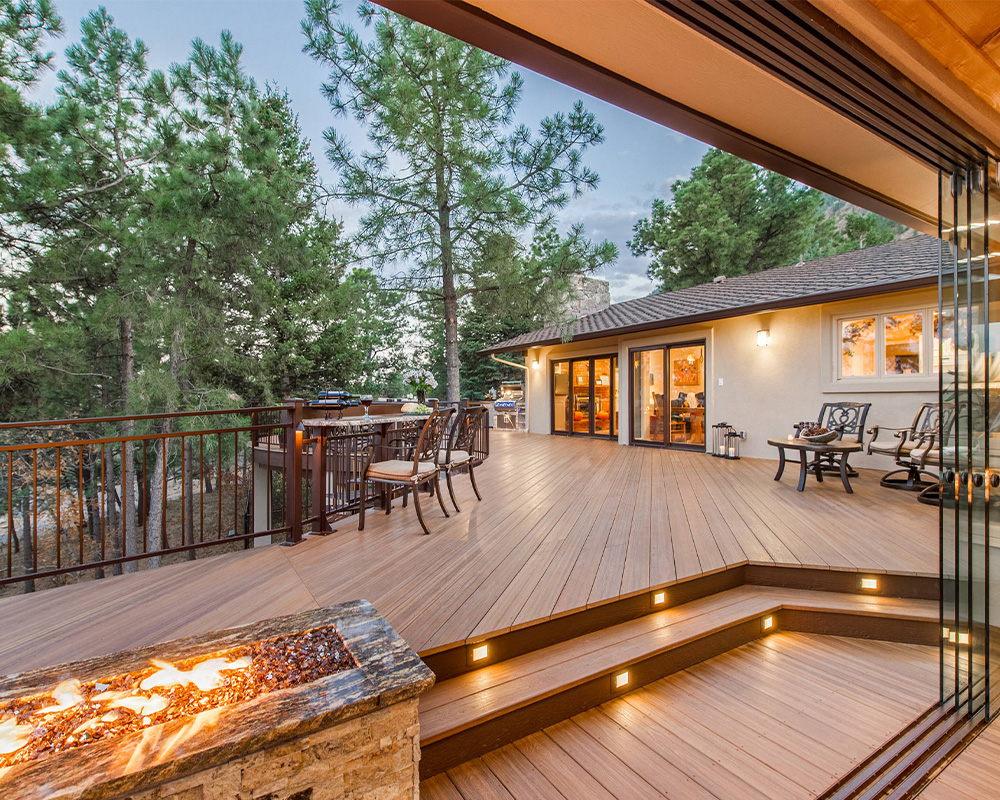 A deck is an elevated platform that is usually attached to a house. It does not have a roof and can be any size. Decks can be used for seating, dining, or just relaxing. They can be made from various materials, but wood is the most common. Wood-plastic composite decks have become increasingly popular in recent years because they are durable and low-maintenance.
Types of Decks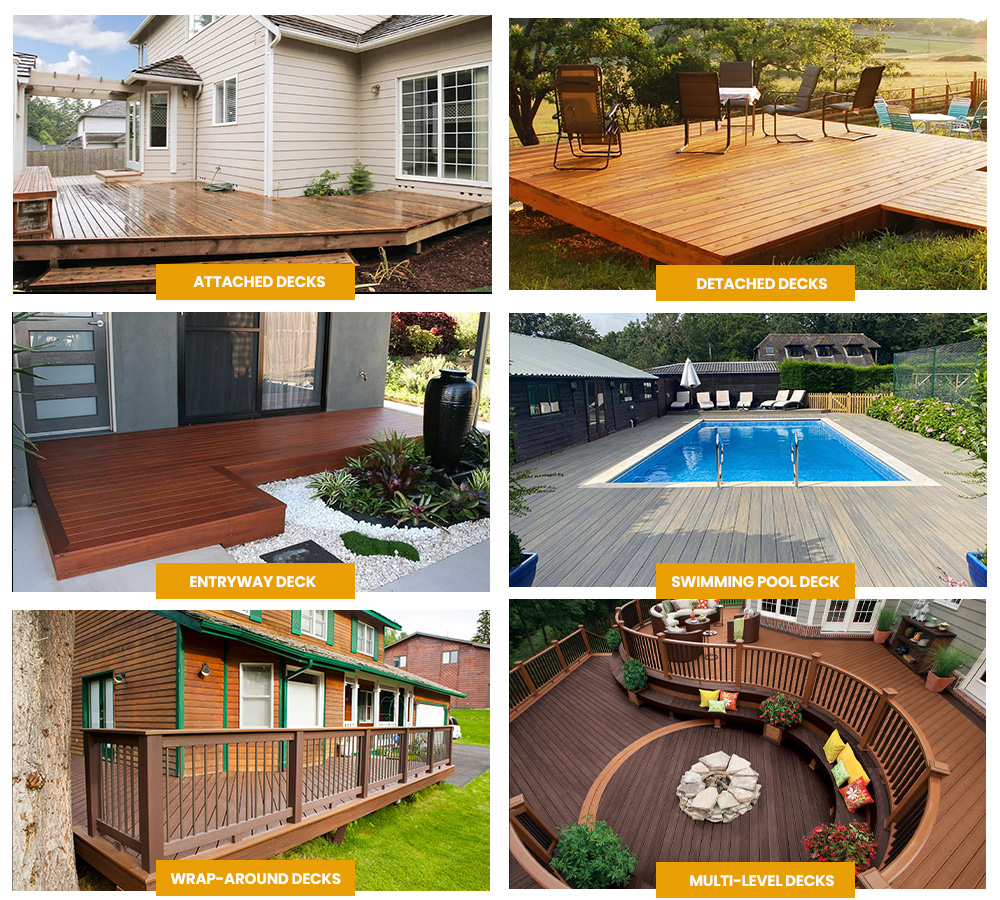 Here are the main types of decks based on their structural designs. 
Wrap-Around Decks
These decks are attached to a house and encircle two or more sides of it. They come in various sizes, including railings, steps, and coverings. This style provides outdoor space accessible from multiple points in the home, effectively extending the living area.
Multi-Level Decks 
Ideal for uneven terrain, these decks have multiple levels connected by steps. They allow for diverse deck sizes and outdoor living spaces, accommodating different ground conditions. They can incorporate various design styles, both attached and detached.
Attached Decks
Connected directly to a home, these decks are usually square, rectangular, L-shaped, or U-shaped. They often extend existing rooms like kitchens or dining rooms, offering stability borrowed from the house structure. However, improper installation or maintenance could damage the home's structure and require code-approved railings and stairs.
Detached Decks
Also known as "floating decks," these are not attached to the house and are typically accessed via a path or walkway. They are simpler to build often cheaper than attached decks, but require regular maintenance and are more susceptible to moisture damage.
Swimming Pool Deck
A swimming pool deck is a paved area surrounding a swimming pool. It is used for sunbathing, swimming, and other recreational activities. It may have steps leading into the pool and may also have a railing for safety. 
Entryway Deck
An entryway deck is a type of deck that is built at the entrance of a house. It is typically made of wood or composite materials and can be attached to the house or freestanding.
Difference Between Patio and Deck
A deck is typically made of wood or composite material and is elevated off the ground, while a patio is generally made of concrete, stone, or pavers and is installed directly on the ground. Decks are usually more expensive to build than patios because they require more materials and labor. Decks also require more maintenance than patios, as they need to be stained or sealed regularly to protect them from the elements. Patios, on the other hand, are more durable and require less maintenance. They are also easier to clean, as they can be swept or hosed down. If you are considering other outdoor options, read our blog about difference between Balcony and Veranda.
Location
Patio: A patio is built at the front or backside of the house. Sometimes, it is built further from the home as a separate structure. 
Deck: A deck is an extension of the building. It is built at the entrance or wrap around the house. Unlike the patio, it is not built on the ground but instead elevated from the ground. 
Size
Patio: The size and shape of patios vary. Some of the patios are just big enough to accommodate chairs and a fire pit, while others can accommodate a large seating arrangement, and a dining set all at the same time. 
Deck: The size of the deck depends on the size of the backyard, the design of your house, and your budget. The deck's size may vary depending on your choice.
Construction
Patio: Concrete is the most commonly used material for patios, but you can also use large paving stones, tiles, or bricks.
Deck: In terms of material, wood, composite wood, and vinyl are the most commonly used materials for deck construction.
| | |
| --- | --- |
| Patio | Deck |
| Built directly on the ground | Elevated off the ground |
| Built at the front, backside or farther from house  | Built at the entrance or wrap around the house |
| Consists of a single level | Can consist of multiple levels |
| Built from concrete, tile or gravel | Built from wood, composite wood or vinyl |
Conclusion
In conclusion, understanding the distinctions between patios and decks can greatly influence your outdoor living space decisions. Both patios and decks offer unique advantages and suit different preferences, lifestyles, and architectural contexts. Patios, whether attached or detached, provide a grounded and versatile outdoor oasis. They're often used for relaxation and offer creative planting possibilities. On the other hand, decks, with their elevated design, offer expansive views and are ideal for various activities such as dining, entertaining, and enjoying scenic landscapes.