Lahore, often called the cultural capital, is full of old places that tell amazing stories from the past. It is a city with a very long and important history. It has seen many changes over the years but still retains its old charm. ​​Lahore has witnessed the rise and fall of empires, the passage of conquerors, and the flourishing of art, culture, and learning.
The city of Lahore attracts a large number of tourists every year. Kamran Lashari, the WCLA director general, estimates that Lahore Fort, in particular, sees about five million visitors each year.
In this blog post, we will discover 10 amazing historical places to visit in Lahore.
Historical Places to Visit in Lahore
Lahore has tons of old, awesome buildings from different times, like fancy ones from the Mughal period and some from when the British were in charge. We're about to uncover the amazing historical places to visit in Lahore, where you can go back in time and discover its amazing history.
Badshahi Mosque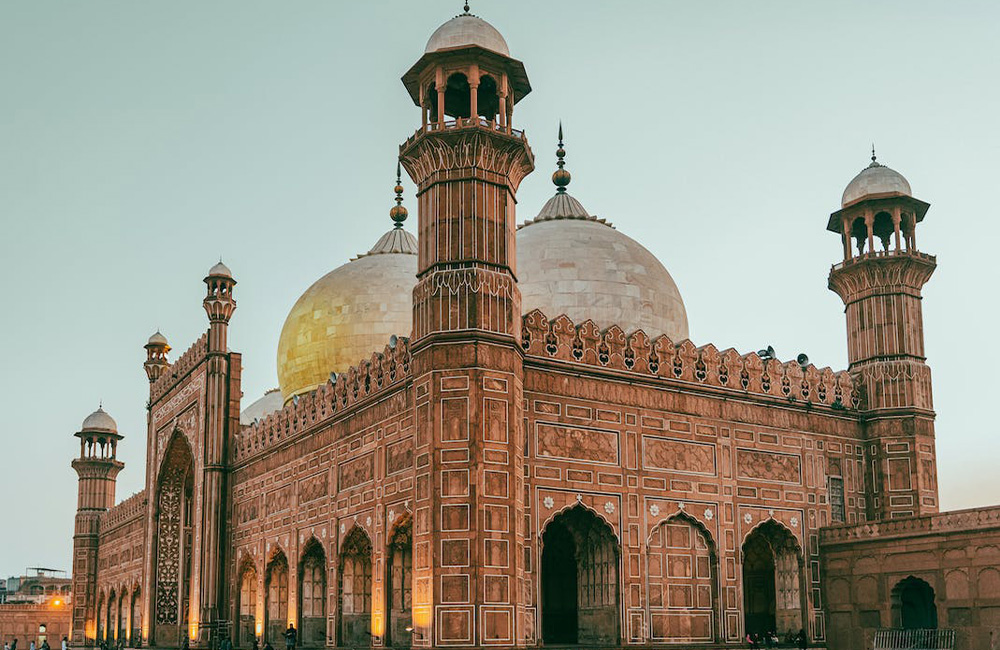 The Badshahi Mosque, also known as Masjid-e-Alamgiri, is the second largest Mosque in Pakistan after the Faisal Mosque. The Mosque was built by the sixth Mughal emperor Aurangzeb in 1673. It is an excellent example of Mughal-era architecture. This Mosque is like a beautiful artwork made with red stone and white marble decorations. This Mosque is neighbors with Lahore Fort. Together, they remind us of the fantastic history and art of the Mughal Empire. 
According to historical accounts, the Mosque was built in 1671 to commemorate Aurangzeb's military campaigns against the Maratha King Chhatrapati Shivaji. Others claim that it was built to protect the hair of the Last Prophet (PBUH). Another little-known fact about the Mosque is that it caused the river Ravi's bed to change. The Mosque is located just a few meters from the Lahore Fort.
Shahi Qila – Lahore Fort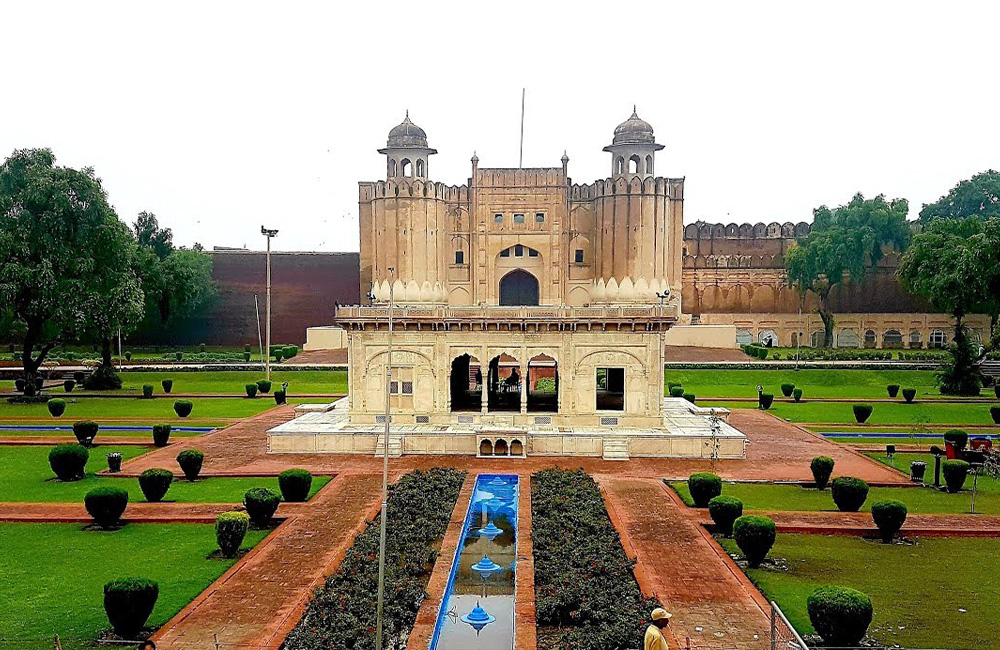 In the 16th century, Mughal emperor Akbar established the Lahore Fort. The fort houses three museums: the Mughal Museum, the Armoury Gallery, and the Sikh Museum. Each museum contains a series of interesting exhibits, including Mughal art, weapons, and Sikh artifacts. The entrance gate of the fort, known as Alamgiri Gate, is located in front of the Badshahi Mosque.
Attractions
Some of the attractions of Shahi Qila include:
Akbari Gate: Akbari Gate is a majestic entrance to Lahore Fort, characterized by its grand Mughal architecture and historical significance as it was built during Emperor Akbar's reign.
Alamgiri Gate: Alamgiri Gate, another impressive entrance to Lahore Fort, was constructed during Emperor Aurangzeb's rule and is adorned with intricate calligraphy and design.
Diwaan e Aam: Diwaan e Aam, or the Hall of Public Audience, is a magnificent hall where Mughal emperors held court and interacted with the ordinary people.
Jahangir's Quadrangle: This area inside the fort features beautiful Mughal gardens and structures, reflecting the architectural tastes of Emperor Jahangir.
Diwaan e Khas: Diwaan e Khas, or the Hall of Private Audience, is an opulent chamber where the Mughal emperor met with dignitaries and held private discussions.
Khwabgaah: Khwabgaah, meaning the "Sleeping Chamber," is a tranquil area within the fort used for rest and relaxation by the Mughal royalty.
Pictured Wall: The Pictured Wall features intricate frescoes and artwork, adding to the aesthetic charm of Lahore Fort.
Others include Lal Burj, Kala Burj, Shahi Hammam, Paien Baagh, Hathi Paer, Khilwat Khana, Ath Darra, Shish Mahal, and Bangla Naulakha.
Minar E. Pakistan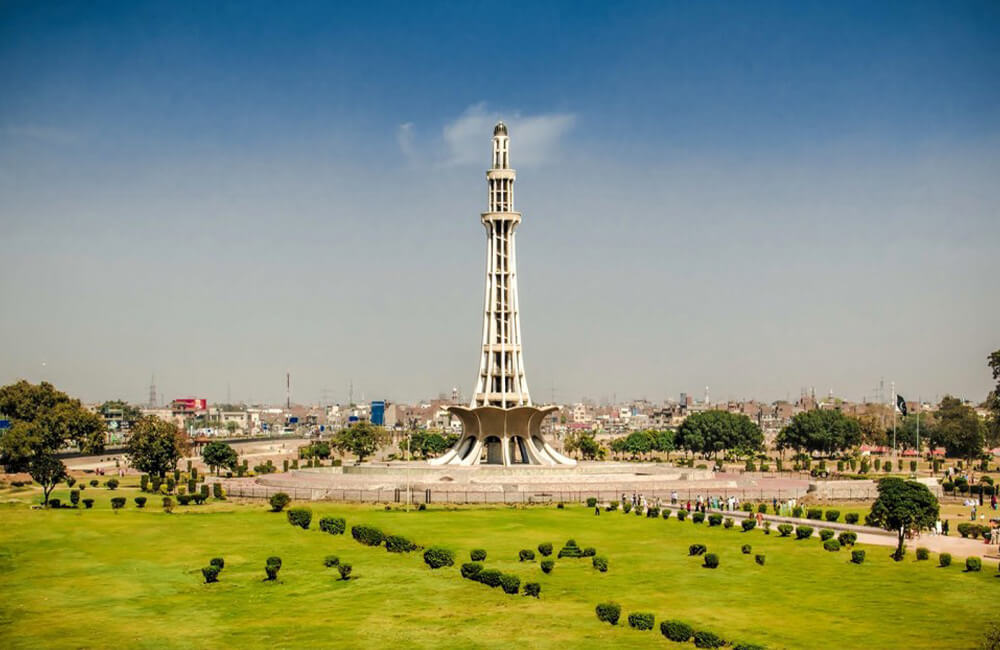 Minar-e-Pakistan, also known as the 'Tower of Pakistan,' is a tall Lahore structure built to remember a significant event known as Qarardad-e-Pakistan. This event happened on March 23, 1940, when leaders of the Muslim community in India came together and decided that they wanted their own separate country, Pakistan.
This day, March 23, is celebrated as Pakistan Day, a holiday in Pakistan. For people who love their country, Minar-e-Pakistan is a special place because it represents this important moment in history.
Historical Significance
In 1940, Muslim leaders in India were trying to make sure that Muslims had a say in the government, especially in areas where most people were Muslims. But it wasn't working out well, and the leaders of India were not listening to the Muslims.
So, in 1940, they got together in a park that is now called Iqbal Park in Lahore. They made a resolution that they wanted a separate country where Muslims could live independently. This idea was first talked about by a famous poet and philosopher named Allama Iqbal in 1930.
This resolution gave hope to the Muslim community, and after seven years of struggle, Pakistan became a separate country on August 14, 1947.
To remember this important place where the decision was made, they built Minar-e-Pakistan in Iqbal Park. It took eight years to build this tower, and it was finished in 1968. It stands as a symbol of the freedom and independence of Pakistan.
Masjid Wazir Khan
Masjid Wazir Khan is one of the best historical places to visit in Lahore. It is a mosque from the Mughal era that serves as a major site of worship. It was commissioned by Hakeem Ilam-ud-din Ansari, also known as Wazir Khan. here was a large piece of land that he owned near the Delhi Gate Where he built the Mosque in 1634. A mosque's layout can be divided into three sections: the entrance, courtyard, and main prayer hall.
The entrance of the Mosque is a Timurid-style iwan, which is a rectangular structure that serves as a gate through which people enter the Mosque. The courtyard is large and open, with a fountain in the center. It is home to an underground crypt that contains the remains of the 4th-century Sufi saint Syed Muhammad Ishaq Gazruni, also known as Miran Badshah. The crypt is a popular pilgrimage site for Muslims from all over the world. The prayer hall is at the far end of the courtyard. It is a single-aisle hall divided into five sections. The main section has a large dome, while the remaining four sections have smaller domes.
If you are a resident of want to explore the historical places there, Read Our blog: Top 13 Best Historical Places in Peshawar 
Sheesh Mahal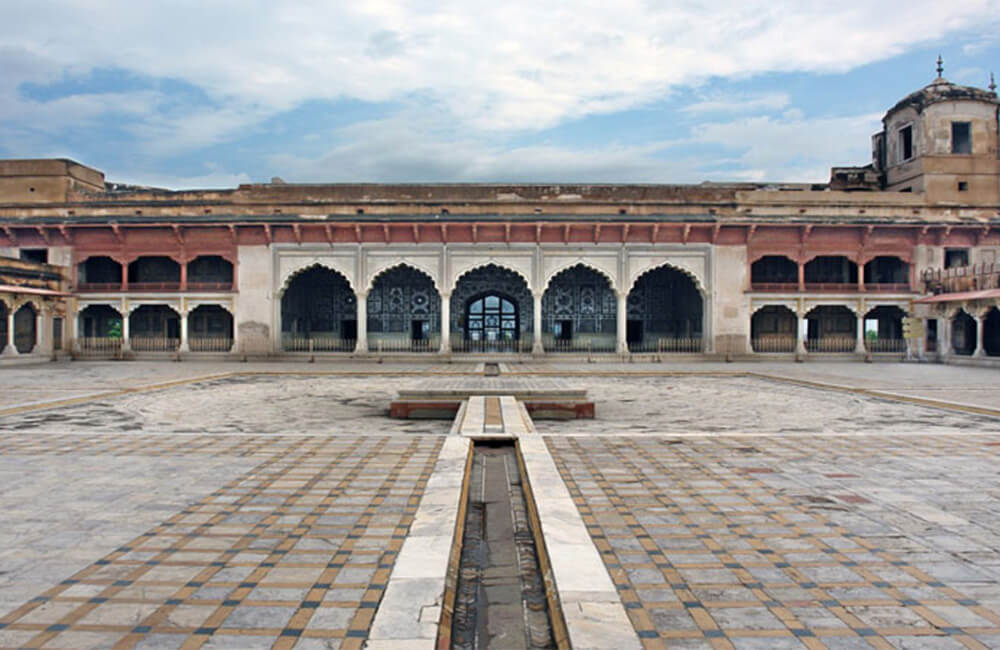 Sheesh Mahal is also known as the Crystal Palace or Palace of Mirrors. It was built between 1631 and 1632 during the reign of Mughal Emperor Shah Jahan. According to folklore, Shah Jahan had it built for Mumtaz Mahal, his beloved wife. Mumtaz Mahal had dreamed of floating in the stars, and Shah Jahan made her dream come true. But unfortunately, she died before entering the palace, leaving the king heartbroken. He later built the Taj Mahal in Agra as a tomb for her.
Haveli of Nau Nihal Singh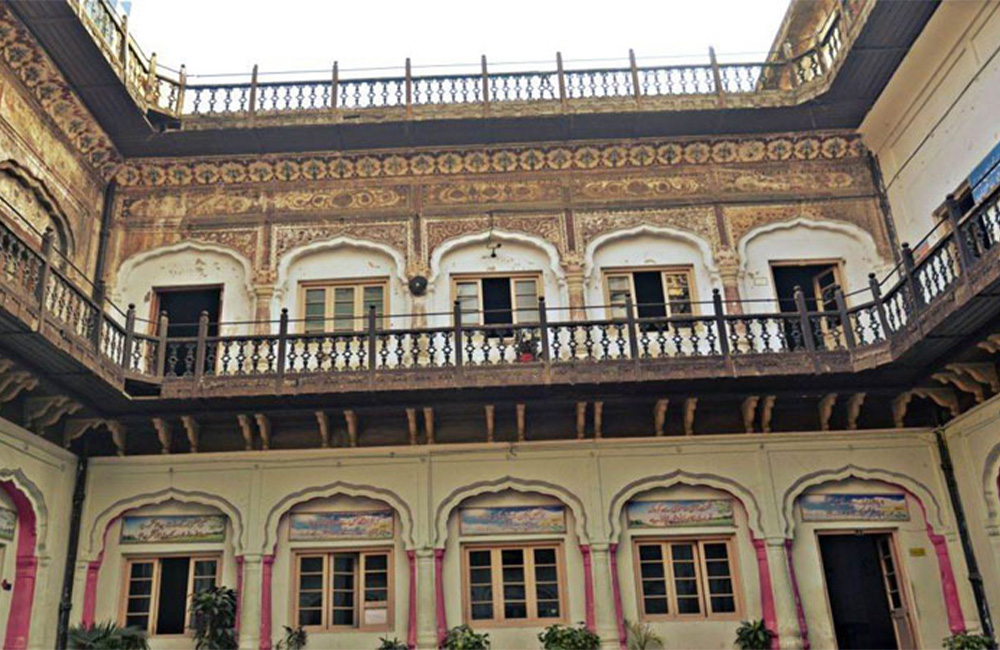 The Haveli of Nau Nihal Singh, also called Government Victoria Girls' High School, is an old building in Lahore. It was built in the 1800s and is known for its beautiful Sikh-style design.
It's located in the Walled City of Lahore, near Mori Gate, Bhatti Gate, and Lohari Gate. The building was originally the house of Nau Nihal Singh. The building has a special design with a fancy entrance and a balcony where important people could stand. It has four floors, including a special room on the top floor called Rang Mahal or Sheesh Mahal. Inside, there are pretty decorations on the ceilings and walls, including colorful paintings. There's also a big courtyard in the middle.
Ali Hajvery's Tomb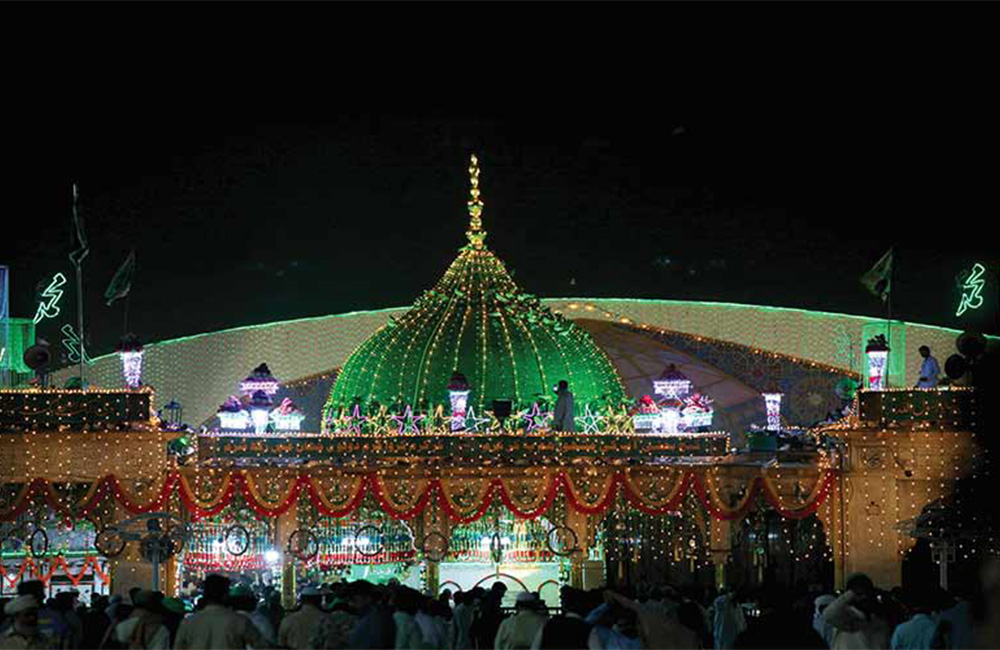 Ali Hajvery's Tomb, popularly known as Data Darbar, is the largest Sufi shrine in South Asia. The shrine is dedicated to Ali Hajvery, a Sufi saint. The shrine is a pilgrimage site for Muslims from all over the world. It is also a popular tourist destination.
Ali Hujwiri, born in Ghazni, Afghanistan, was a Sufi saint with a notable lineage tracing back to Ali. He extensively traveled throughout the Ghaznavid Empire and beyond, spending time in Baghdad, Nishapur, and Damascus, where he met prominent Sufis of his era. He received Hanafi Sunni legal training and Sufi teachings from various teachers. He briefly lived in Iraq, but his marriage during this time was unhappy. Eventually, he settled in Lahore, where he passed away, earning a reputation as a renowned preacher and teacher. After his death, Ali Hujwiri was widely recognized as a great saint.
Lahore Museum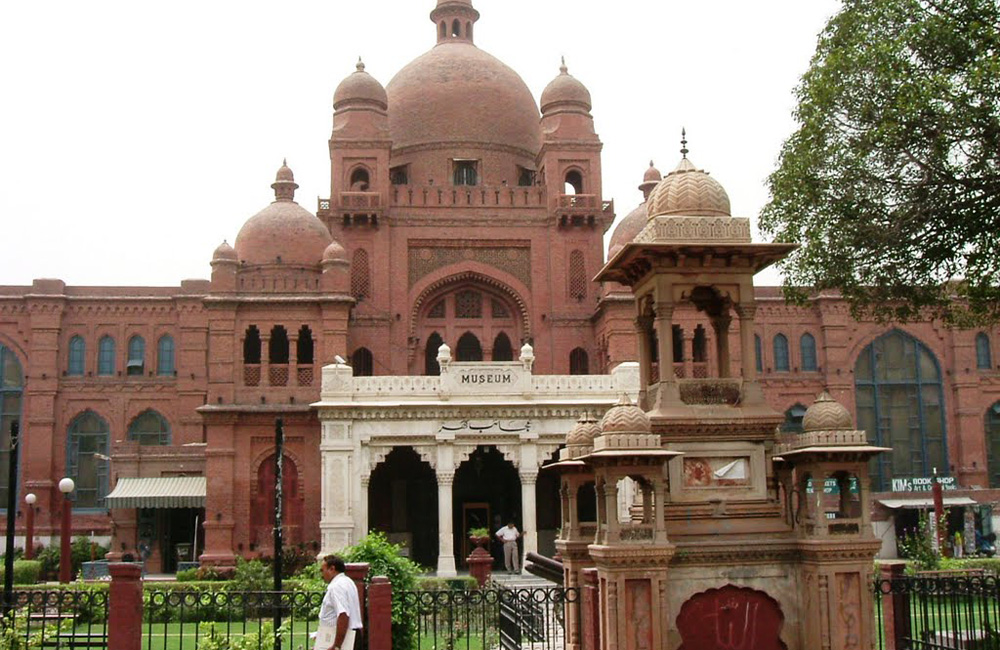 The Lahore Museum, or Central Museum, was opened in 1894. It is home to a vast collection of artifacts from the region, including sculptures, coins, paintings, and fabrics. The museum's collection of musical instruments is particularly comprehensive and has a good collection of arms and armor. The central part of the archaeological gallery houses a stūpa drum of Sikri, carved with scenes from the Buddha's life.
Jahangir's Tomb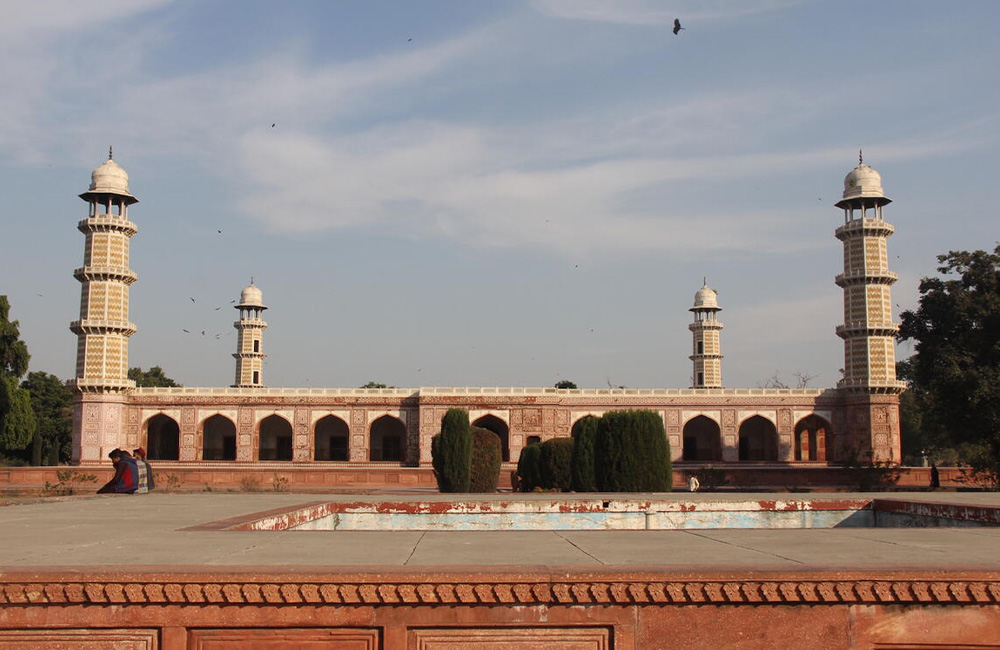 The tomb of Jahangir was constructed between 1627 and 1637, during the reign of his son Shah Jahan in the Mughal Empire. Jahangir, who deeply appreciated nature, wanted to be buried in the Shahdara area, known for its pleasure gardens across the Ravi River from Lahore. The tomb is a single-story structure with corner minarets, enclosing a white marble sarcophagus, and is adorned with red sandstone and marble inlay decorations.
The tomb is in the center of a Persian-style garden, following the char bagh design used by earlier Mughal rulers. This garden was divided into quadrants with water channels representing Paradise's four rivers, featuring paved walkways and fountains. Water was supplied from outside wells, channeled into the enclosure walls, and flowed through gravity to the fountains and channels. 
Samadhi of Ranjit Singh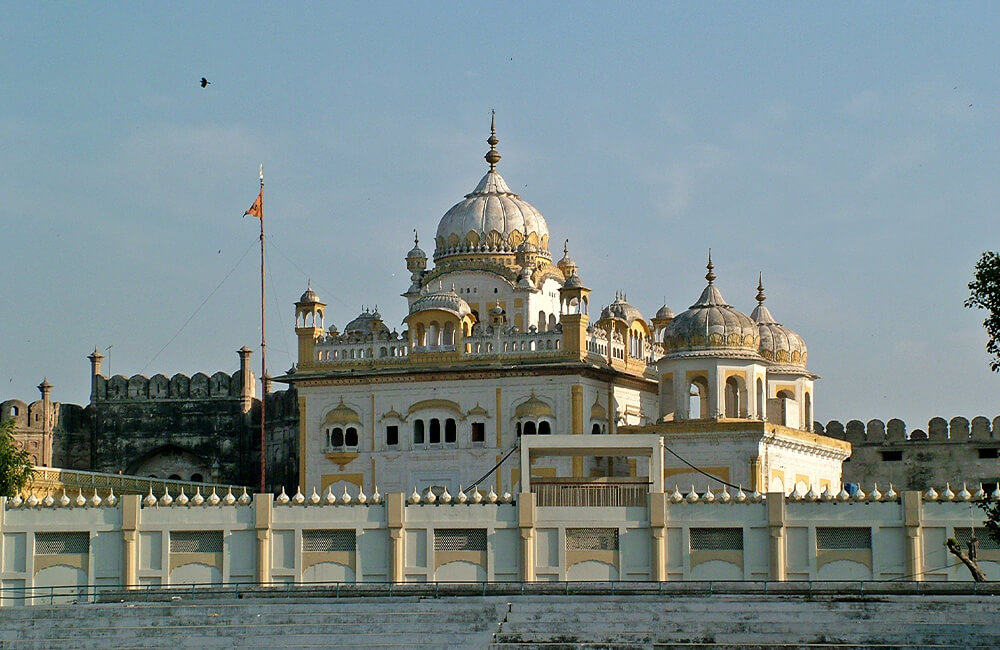 The Samadhi of Ranjit Singh is a 19th-century building. It serves as the final resting place for Sikh Maharaja Ranjit Singh. It is near the Lahore Fort, Badshahi Mosque, and Gurdwara Dera Sahib. The structure blends elements of Sikh, Hindu, and Islamic architecture, featuring gilded domes, cupolas, ornate railings, and intricate decorations.
Ranjit Singh's ashes rest in a marble urn shaped like a lotus in the center of the tomb, surrounded by more miniature urns containing the ashes of four Hindu sati queens and seven concubines. The Samadhi was damaged in a 2005 earthquake but has since been repaired. Adjacent to it is the Gurdwara Dera Sahib, marking the place where Guru Arjan Dev Ji died, along with smaller monuments commemorating Ranjit Singh's son and grandson.
To Wrap Up
The historical places to visit in Lahore mentioned in this blog are not mere tourist attractions; they are living pieces of the city's soul, connecting the present to its illustrious past. These places are like living history books, and when you visit them, you get to learn about the past and experience the culture of Lahore. So, if you ever get a chance to visit Lahore, don't miss the opportunity to explore these historical treasures and discover the city's rich history for yourself.