Real estate can be a very rewarding career, but it's not without its challenges. To be successful, you need to be prepared to work hard and put in the time. You also need to be able to deal with rejection, as not every sale will go through. Additionally, you need to be able to build relationships with clients and understand their needs. 
Real estate agents can make a lot of money. But to make the reward, you should understand Real Estate and How to become a successful real estate agent.
So what are you waiting for? If you're ready to start your career in real estate, keep reading for all the information you need to succeed!
What Does a Real Estate Agent Do?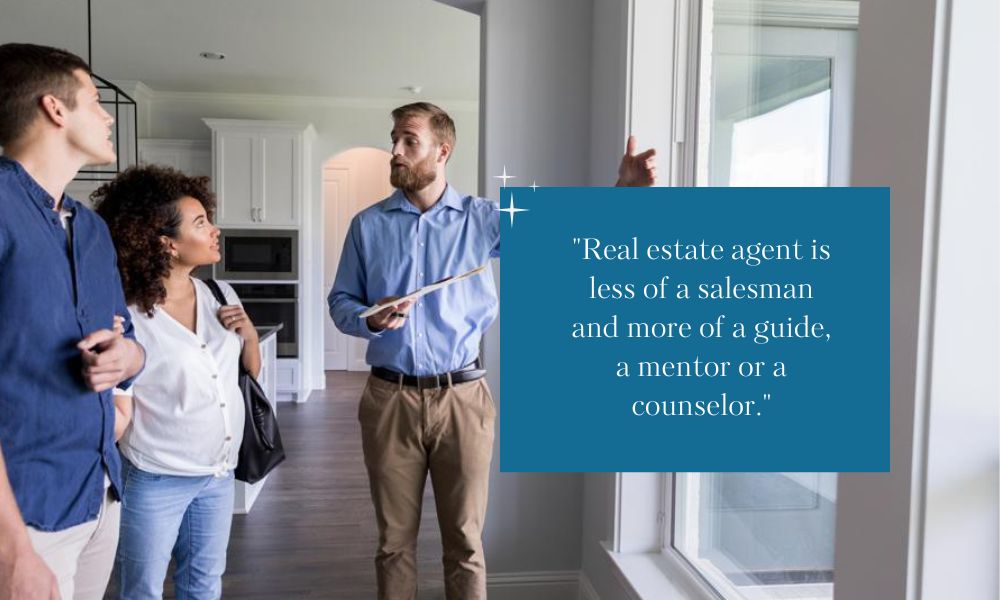 Real estate agents are licensed professionals who play a crucial role in the property market. They act as buyer's representatives, assisting individuals in finding suitable options within their desired price range. With their extensive knowledge of the local market, these agents are well-equipped to guide property buyers through the entire process.
One of the responsibilities of a real estate agent is to lead property tours. They arrange visits to various properties, allowing buyers to explore and evaluate them firsthand. Agents provide valuable insights about each property's neighborhoods, amenities, and potential investment opportunities, helping buyers make informed decisions.
In addition to facilitating property tours, real estate agents also excel in negotiation. They possess excellent communication and interpersonal skills, enabling them to effectively liaise with other realtors on behalf of their clients. Whether it's negotiating the purchase price, terms of the contract, or any contingencies, these agents work tirelessly to secure the best possible deal for their buyers.
Also, Read Our Blog: Real Estate Business Ideas in Pakistan in 2023
How to Become a Successful Real Estate Agent? 13 Successful Tips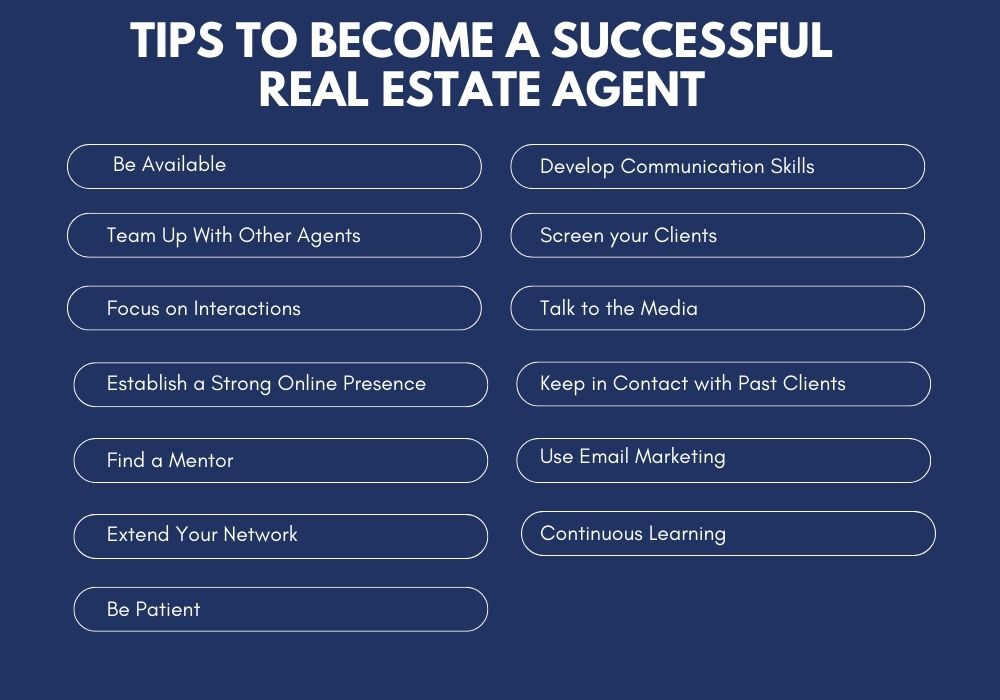 Becoming a successful real estate agent requires a combination of hard work, understanding, and dedication. If you're passionate about helping people find their dream homes or make profitable investments, here are some essential steps to get you started on your path to success.
Be Available

Real estate transactions can be complex and emotional; clients rely on their agents for guidance and support. When selling a property to a client, it is crucial to be available and provide undivided attention to each client throughout the process. This means promptly responding to phone calls, emails, and text messages. Clients should feel that they can rely on you and that you are there to address their concerns and answer their questions throughout the buying or selling journey.
Before communicating with clients, remember that people have different communication preferences. Some clients prefer phone calls for urgent matters, while others prefer emails for a written record of discussions. It's essential to ask each client about their preferred method of communication and respect their choices. By doing so, you can ensure smooth and effective communication.
Develop Communication and Negotiation Skills

Developing excellent communication and negotiation skills is essential. As a real estate agent, you'll work closely with clients, understand their needs, and guide them through buying or selling. Effective communication will help you build trust and ensure a smooth transaction. Furthermore, improving your negotiation skills will enable you to secure the best deals for your clients and maximize their satisfaction.
Team Up With Other Agents

Teaming up with another agent can be a great way to expand your knowledge and lead to more work in the future. Here are a few reasons why:
Two heads are better than one. When you team up with another agent, you have two people working together to find and close deals. This can be especially helpful if you are new to the field, as you can learn from your partner's experience.

When you work with another agent, you can split the commission on any deals that you close together. This can be a great way to increase your income, especially if you are just starting out.

You can build relationships with other agents and their clients and colleagues. This can lead to more work in the future, as you will have a wider network of people to refer to.

When you team up, you can learn from their experience and knowledge. This can help you to improve your own skills and become a more successful agent.
If you are considering teaming up with another agent, be sure to choose someone you trust and who has a similar work ethic. This will help to ensure that your partnership is successful.
Screen your Clients

When screening clients, it is important to focus on those who are most ready to make a sale. This means screening out those who are only passively searching for new properties and focusing on those interested in making a purchase. This will ensure that your efforts are rewarded with a sale.
Once you have screened your clients, you can focus on those who are most likely to make a sale. This will save you time and energy and increase your sales chances.
Focus on Interactions Rather Than Selling 

While selling the house is a real estate agent's primary goal, it should not be the primary focus of buyer interactions. Instead, you should focus on building rapport with buyers, making them feel comfortable, and earning their trust. By doing so, they are more likely to sell the house.
Talk to the Media

Talking to the media can be a great way to get your name out there and potentially build a bigger network of clients. When you talk to the media, you have the opportunity to share your expertise and insights on real estate-related topics. This can help to position you as a thought leader in the industry, which can attract new clients. Additionally, media coverage can help to increase brand awareness for your business. When people see you quoted in the media, they are more likely to remember your name and consider you when they are looking for real estate services.
Establish a Strong Online Presence

Establishing a strong online presence is crucial to stand out in a competitive market. Engaging consistently with your audience, responding to inquiries promptly, and providing valuable content will help establish your presence and credibility.
Facebook: With over two billion users, Facebook offers a massive audience. Consider running a paid ad campaign to broadcast your real estate services to a targeted audience based on demographics and interests. Utilize social media platforms to showcase your listings, share informative content, and engage with your audience.
LinkedIn: This platform is excellent for networking with professionals in your industry. Connect with other real estate agents, brokers, and potential clients to build valuable relationships.
Instagram: Target a younger audience on Instagram with visually appealing content. Upload high-quality interior and exterior shots from your open houses to showcase your properties in the best light. Use Instagram Reels, short, engaging videos, to showcase properties, provide tips, and share insights about the real estate market. This can help boost engagement and visibility.
YouTube: Create a YouTube channel where you can share virtual property tours, neighborhood highlights, and educational videos about the home-buying process. It's a powerful platform for establishing yourself as an expert in the field.
Twitter: Engage with your audience on Twitter by sharing quick updates, tips, and insights about the real estate market. Use relevant hashtags to reach a broader audience.
Additionally, you can also develop a professional website for potential buyers to visit. Make it visually appealing and user-friendly, showcasing the work you do and the services you provide. Use your social media profiles to drive traffic to your website.
Keep in Contact with Past Clients

It is important to keep in contact with past clients to maintain a good relationship with them. Sending out cards during the holidays is a great way to show your appreciation for their business. You can also initiate yearly check-ins to ask them how they are enjoying their home or commercial property. This is a good opportunity to get feedback from them and see if there is anything you can do to improve their experience. Additionally, you can let them know that you still work locally and are available for assistance anytime they need it. This shows that you are committed to providing them with excellent service and that you value their business.
Here are some other ways to keep in contact with past clients:
Send out newsletters or email updates about your business.

Invite them to special events or promotions.

Offer them discounts or other special offers.

Ask them to leave reviews or testimonials on your website or social media pages.

Thank them for their business in person or over the phone.
By keeping in contact with past clients, you can build strong relationships with them and encourage them to do business with you again in the future.
Find a Mentor

Finding a mentor who has experience in real estate can be a great way to learn the process of selling and the documents involved. A mentor can provide you with guidance and support as you navigate the real estate market. They can also help you develop the skills and knowledge you need to succeed in this field. Working with a mentor can be a great way to learn the ropes of real estate and develop the skills you need to be successful. 
Use Email Marketing 

Email marketing is a great way to stay in touch with your clients and keep them up-to-date on your latest news and offers. You can also use email marketing to nurture leads and turn them into customers. 
Drip campaigns are a type of email marketing that sends out a series of emails over time. This is a great way to educate your clients about your products or services and build trust with them. You can also use drip campaigns to promote special offers or discounts. You can also use guides, incentives, and call-to-action buttons to track which clients are most likely to buy a home. For example, you could offer a free guide on how to buy a home to anyone who signs up for your email list. You could also offer a discount on your services to anyone who clicks on a call-to-action button and visits your website.
Extend Your Network

It's time to build a strong network. Networking is key in the real estate industry, allowing you to connect with potential clients, other agents, and industry professionals. Attend local events, join real estate associations, and utilize social media platforms to expand your reach. Establishing meaningful relationships will increase your chances of receiving referrals and gaining valuable insights from experienced agents.
Continuous Learning

Continual learning is another key aspect of becoming a successful real estate agent. Stay updated on market trends, new regulations, and industry best practices. Attend seminars, workshops, and webinars to expand your knowledge and stay ahead of your competition. By investing in your professional development, you'll be better equipped to provide top-notch service to your clients and adapt to changing market conditions.
Be Patient

Lastly, always prioritize your client's needs and provide exceptional customer service. Buying or selling a property can be stressful, and your role as a real estate agent is to alleviate that stress and guide your clients every step of the way. You'll build a solid reputation and earn repeat business and referrals by going above and beyond to exceed their expectations.
Conclusion 
Success in real estate is not immediate, but with dedication, hard work, and perseverance, you can build a thriving career in this exciting and dynamic industry. Stay focused, be adaptable, and continuously strive to improve your skills, and you will increase your chances of achieving long-term success as a real estate professional. Good luck on your journey!