Imagine leaving behind the noisy city life and entering a world of peaceful snowy mountains and beautiful meadows. In this blog, we're going on a special trip to the Northern Areas of Pakistan. It's a place that looks like it's right out of a fairy tale, with stories and legends echoing in every step we take. So, get your bags ready because we're about to start a journey that will amaze you and touch your heart. Let's uncover the best places to visit in Northern Areas of Pakistan together! Are you excited?
Places to Visit in Northern Areas of Pakistan
The Northern areas of Pakistan are incredibly beautiful and have lots of different things to see and experience. These places are famous for their high mountains, stunning landscapes, and most friendly and welcoming people.
Let's explore some of the best places to visit in  northern areas of Pakistan.
Skardu Valley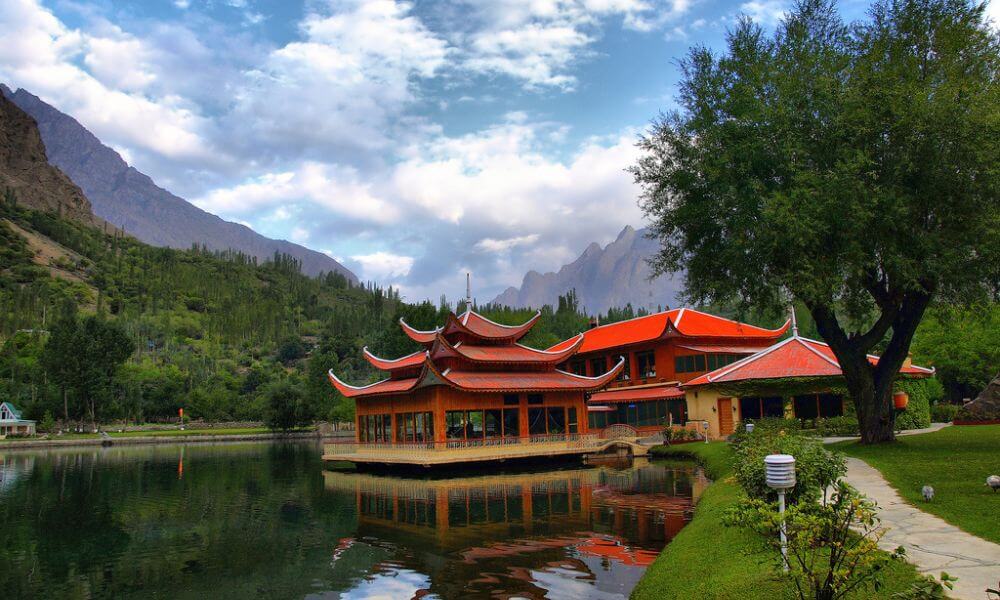 Skardu Valley is a stunningly beautiful region located in the Gilgit-Baltistan. It is known for its breathtaking scenery, high mountains, beautiful lakes, and diverse plant and animal life. Skardu serves as the gateway to some of the world's highest peaks, including K2, the second-highest mountain on Earth.
The Valley is located in the Karakoram Range, the westernmost extension of the Himalayas, and is surrounded by snow-capped peaks, glaciers, and deep gorges. The Indus River flows through the Valley, adding to its natural beauty.
Famous Tourist Attractions in Skardu Valley
Some of the notable attractions in Skardu Valley include:
Shangrila Resort (Heaven on Earth): A popular tourist resort is known for its location and serene atmosphere. It offers stunning views of the surrounding mountains and the Lower Kachura Lake.
Upper Kachura Lake (Shangrila Lake): A crystal-clear lake surrounded by lush green meadows and snow-capped peaks, providing a perfect spot for boating and relaxation.
Deosai National Park: Often called the "Land of Giants," this high-altitude plateau is home to unique flora and fauna, including the Himalayan brown bear. In summer, it transforms into a colorful carpet of wildflowers.
Skardu Fort (Kharpocho Fort): An ancient fort perched atop a hill, offering panoramic views of the entire Valley and the Indus River.
Satpara Lake: A beautiful freshwater lake located near Skardu town, surrounded by towering peaks and providing opportunities for boating and fishing.
Cold Desert (Katpana Desert): A unique desert landscape near Skardu, known for its sand dunes and extreme temperature fluctuations.
Find more about the Kaptana Desert in this BLog: List of 5 Famous Deserts of Pakistan
Hunza Valley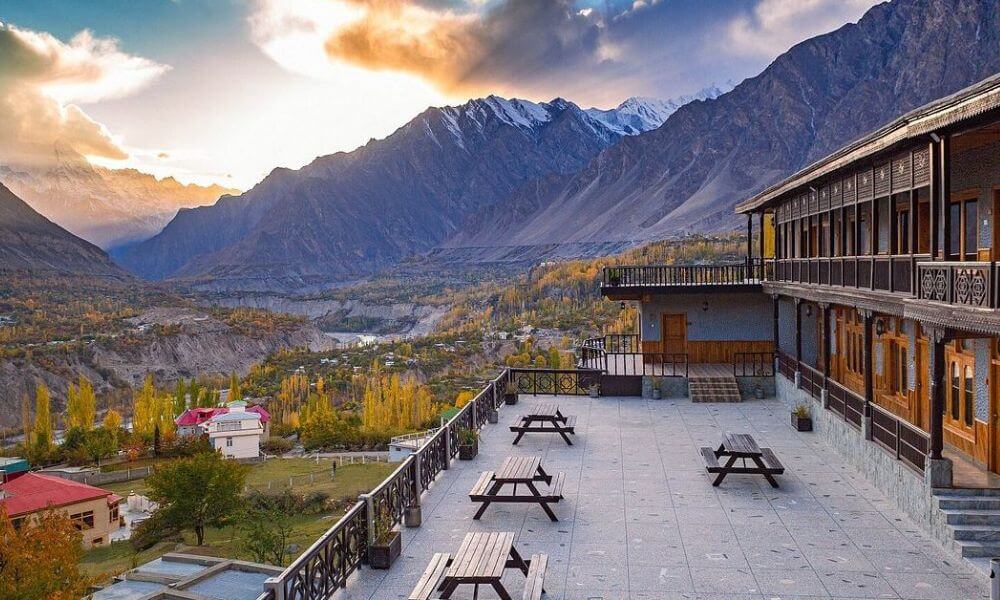 Hunza is a popular tourist destination due to its beautiful scenery and pleasant climate. The Valley is surrounded by several high peaks, including Rakaposhi, Ultar Sar, Bojahagur Duanasir, Diran Peak, Hunza Peak, Darmyani Peak, and Bublimating (Ladyfinger Peak). These mountains provide stunning views for visitors to the Valley.
Famous Places in Hunza Valley
Karimabad Bazaar: A trip to Hunza Valley would be incomplete without a stroll through the bustling streets of Karimabad Bazaar. Here, you can buy beautiful local handicrafts, gemstones, and traditional clothing while sampling the delicious local cuisine.
Baltic Fort: It is a historical structure located above Karimabad, is a Hunza landmark that was built around 800 years ago. The fort has large wooden windows that offer stunning views of the Valley. It was originally used as the residence of the Mirs (the title of the former rulers) of Hunza.
Altit Fort: It is an ancient fort located in Altit town. It used to be the residence of the hereditary rulers of the Hunza state, known as 'Mir,' until they moved to the nearby Baltit fort after three centuries. The fort is approximately 1100 years old, making it the oldest monument in the Gilgit–Baltistan region. 
Attabad Lake Gojal: The was formed in January 2010 due to a major landslide in Attabad. Since then, It has become one of the most popular tourist destinations offering activities such as boating, jet-skiing, fishing, and other recreational activities.
Borith Lake: It is a saline lake located about 2 km north of Hussaini at an elevation of 2,500 meters (8,200 feet). To reach the lake, you can take an unpaved jeep route or 2-3 hours trekking route from Gulmit.
Khunjerab Pass is a 4,693-meter-high mountain pass in the Karakoram Mountains. It is strategically located on the northern border of Pakistan and the southwestern border of China. It is the highest paved international border crossing in the world.
Chitral Valley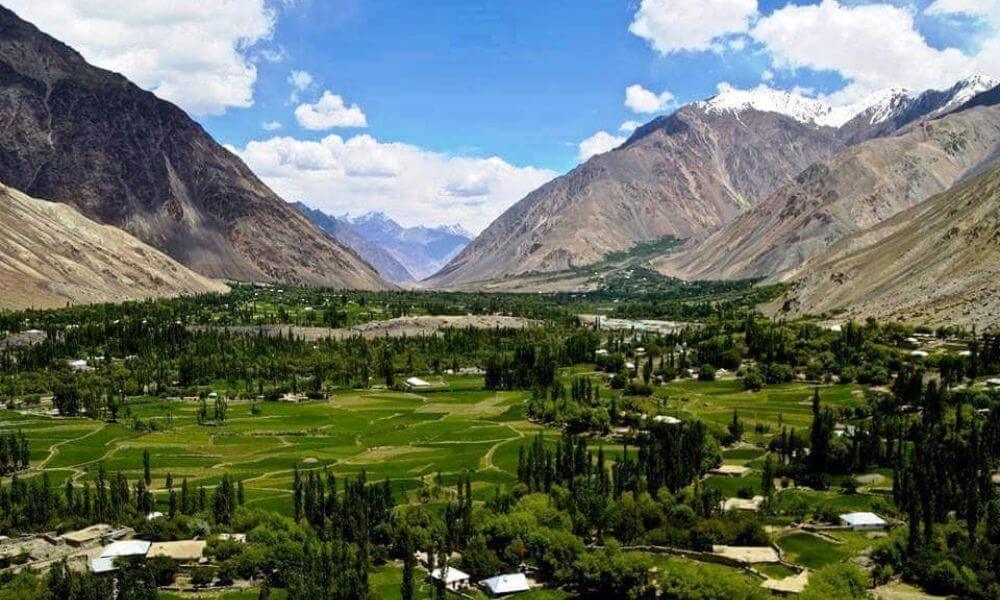 Chitral is a town in northern Khyber Pakhtunkhwa. It is a popular tourist destination due to its natural beauty, including mountains, pine forests, sulfur springs, friendly people, and rivers full of trout. It is also known for its avalanches and snowfall. The road to Chitral is one of the narrowest in the world and is located in the world's largest mountain range, making it a dangerous journey.
Top Attractions in Chitral
Booni: Booni is a beautiful town in Chitral that is worth visiting. Its fan-shaped landmarks, which are formed by glacial deposits, are a major tourist attraction.
Garam Chashma: The place is a tourist destination and is known for its hot springs and trout fishing.
Karambar Lake: It is the 33rd-highest lake on Earth and one of the most biologically active bodies of water on the planet.
Kalasha Valleys: The Kalasha Valleys are surrounded by the Hindu Kush. The Kalash people live there, with their distinct culture, language, and form of ancient Hinduism.
Shandur Polo Ground: It is the highest polo ground in the world. The Shandur Polo Festival is one of Pakistan's major festivals held on this ground.
Chitral Fort: This Fort is located on the banks of the Chitral River. The current ceremonial Mehtar renovated the fort and is held by him.
Other famous tourist attractions of Chitral Valley include; Shahi Masjid, Governor Cottage, Shandur Pass, Ayun Valley, Shahi Qila, Chitral Gol National Park, Chitral Museum, etc.
Swat Valley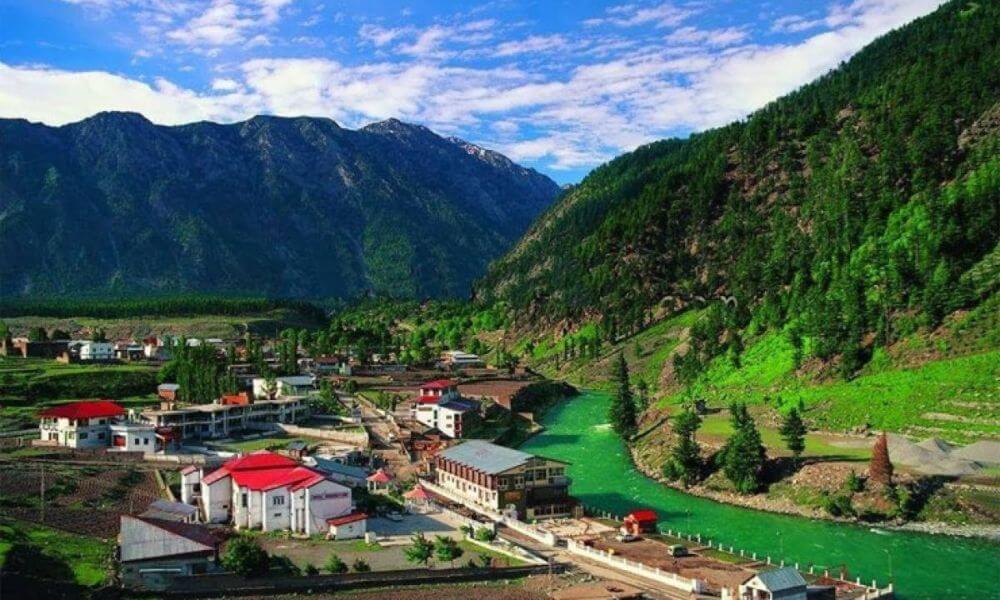 Swat District is located in the Malakand Division of Khyber Pakhtunkhwa. The Valley of Swat is known for its natural beauty, including stunningly diverse scenery and abundant wildlife. It is a popular tourist destination known for its beautiful countryside, lush woodlands, and towering high-peak mountains. The Valley was once a stronghold of the Taliban, but it was restored to peace after Pakistani armed forces conducted special operations in the area.
Tourist Attractions in Swat Valley
Malam Jabba: Malam Jabba is a hill station and ski resort located in the Hindu Kush mountain range, about 40 kilometers from Saidu Sharif in Swat Valley.
Mahodand Lake: The lake is located in the upper Usho Valley, about 35 kilometers (22 miles) from Kalam in Swat. It can be reached by a four-wheel drive vehicle and is popular for fishing and boating.
Murree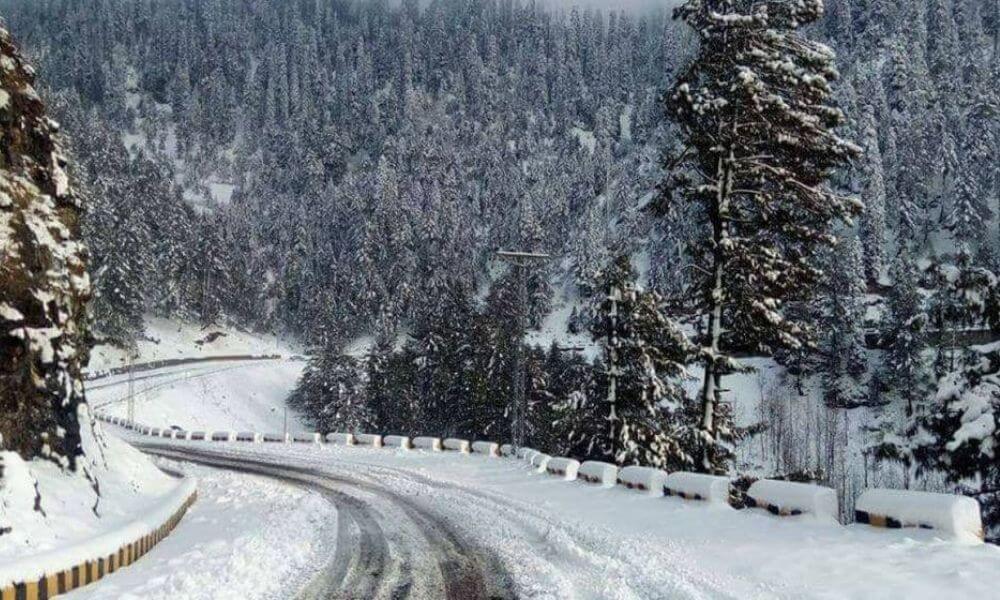 Murree is a mountain resort town in the Galiyat region of the Pir Panjal Range in Rawalpindi. The town was built in 1851 on the hill of Murree as a sanatorium for British troops.
Murree has remained a popular hill station since Pakistan's independence. It is known for its snowy winters, beautiful summers, and a variety of unique seasonal delicacies. The town has a steep landscape and is covered in lush evergreen trees. Murree is one of the most beautiful places in the world to see snowfall in the winter. People enjoy snowball fights and ice skating. 
Attractions in Muree
Kashmir Point: It is the highest view in the area from the point. Kashmir Point is the busiest spot in Murree. It has a market with a variety of shops and food courts.
Mall Road: it's a massive spacious road with a huge variety of shops. It is surrounded by many well-known shops such as a cafeteria, general stores, food courts, garments, dry fruits markets, jewelry shops, ladies' scarfs, gifts shops, leather jackets, sweaters shops, etc.
Pindi Point Chair Lift: This resort in Murree offers a breathtaking chairlift ride. Taking a chairlift ride is one of the most exciting things to do in Murree.
Changla Gali: The Galiyat are famous for their pleasant climate and beautiful scenery. It is a popular mountain resort known for its many hotels and guest houses that cater to tourists.
Pipeline Track Of Miranjani: It is the tallest mountain in the Galyat Region, rising to 2,992 meters above sea level in the Abbottabad District of Pakistan's Khyber Pakhtunkhwa Province. It's 80 kilometers north of Islamabad in the western Himalayan range, near the Namli Maira section of Ayubia National Park.
Miranjani: It is the highest and most difficult mountain in the area. This peak is perfect for people who are looking for a physical challenge. The views are breathtaking once you reach the summit.
Naran-Kaghan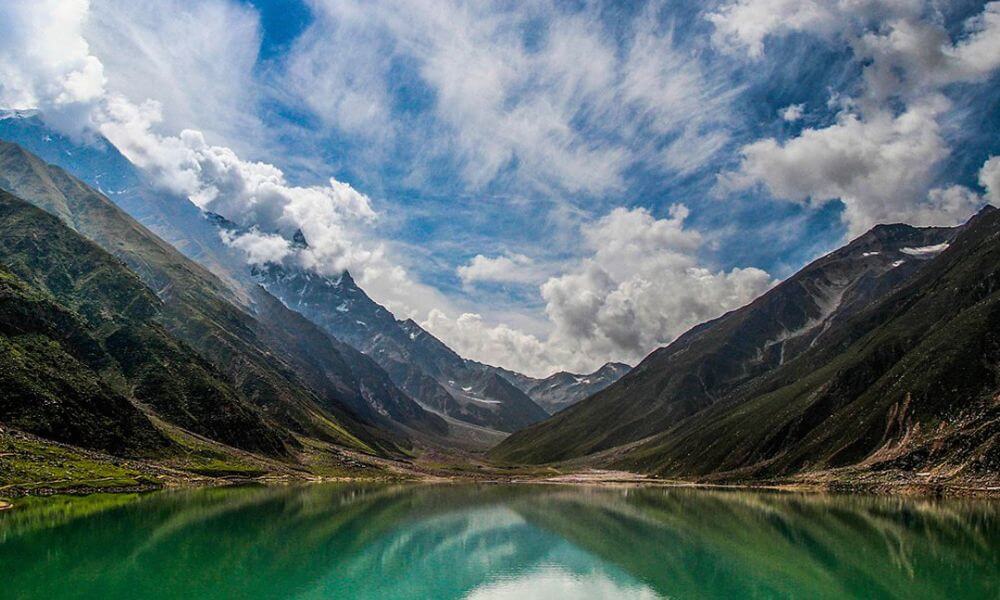 Naran Kaghan is a popular tourist destination in the northern areas of Pakistan. It is renowned for its beautiful scenery, breathtaking landscapes, and pleasant weather. The best time to visit Naran is during the summer when snowfall and road closures are less likely. However, the city is accessible year-round. Summers are hot, with temperatures reaching up to 20 degrees Celsius, while winters are cold, with temperatures dropping well below freezing due to heavy snowfall.
Tourist Attraction in Naran-Kaghan
Saif ul Malook: It is a deep and beautiful lake. Due to its immense beauty, native people believe that the lake is a spot of fairies. During winter, its beauty is enhanced due to snowfall.
Lulusar Lake: Lulusar Lake is a beautiful lake located at the highest point in the Kaghan Valley. The magnificent mountains of the Valley surround it. People can enjoy various activities there, such as fishing, rafting, and hiking.
Babusar Top: Babusar Top connects Naran Valley with Gilgit Baltistan. It is always snow-covered and is considered to be the top location for taking photographs.
Lalazar: Babusar Top is connected to Lalazar, a magnificent and magical garden that is considered the best spot for a picnic in Naran. You can enjoy your meal on the green grass surrounded by beautiful tree-covered mountains at Lalazar.
Fairy meadows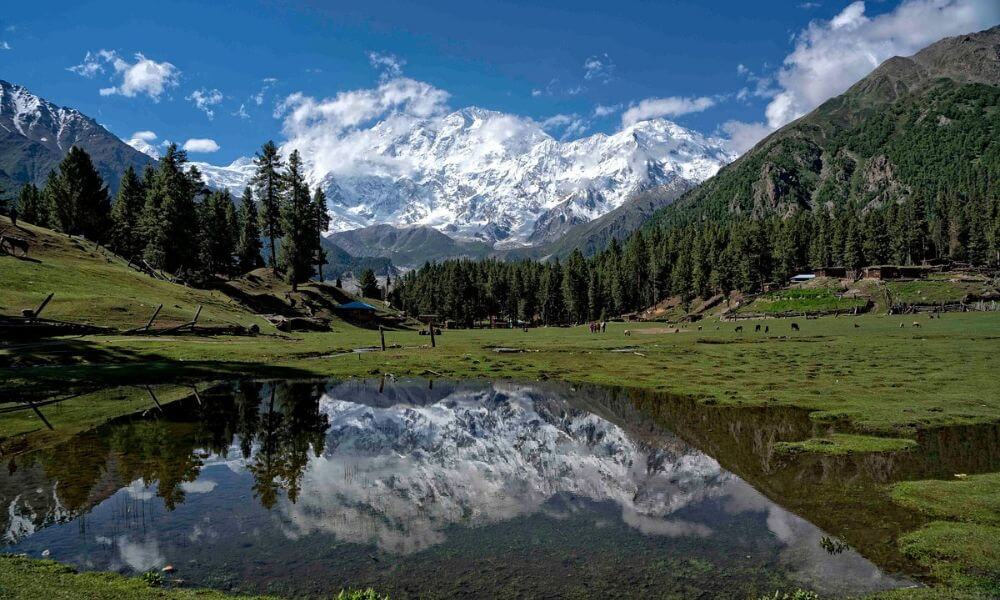 Fairy Meadows is a beautiful grassland located in the Diamer District of Gilgit-Baltistan, Pakistan. It is famous for its dark alpine forest, lush green meadows, and the tremendous mighty Nanga Parbat peak (8,126 m) at the front. Fairy Meadows serves as a gateway to the iconic Nanga Parbat, the ninth-highest peak in the world. Trekkers from around the globe visit Fairy Meadows to undertake the exhilarating journey to the base camp of Nanga Parbat.
To reach Fairy Meadows, visitors take a fifteen-kilometer jeepable trek from Raikot Bridge on the Karakoram Highway to the village of Tattu (Tato). From Tato, a five-kilometer hike leads to Fairy Meadows. The area is located in the Rakhiot valley, near the Rakhiot glacier, which originates from Nanga Parbat and eventually feeds into the River Indus.
Fairy Meadows is a popular tourist destination in Pakistan. It is a great place to relax and enjoy the beauty of nature. The views of Nanga Parbat are simply stunning. If you are looking for an adventure, you can also hike to the base camp of Nanga Parbat.
The best time to visit Fairy Meadows is during the summer months (June-August). The weather is pleasant during this time, and the views are clear. However, the area can be crowded during this time of year. If you are looking for a more peaceful experience, you may want to visit during the spring or fall.
Conclusion 
The Northern Areas of Pakistan are like a magical land where stories come to life, showing how amazing our world is. Get ready to explore and be amazed because these places are waiting for you to discover them. They will make a lasting impression on your heart and fill you with wonder. So, bring your dreams and curiosity along for the journey of a lifetime in the Northern Areas.