Qatar is a small country in the Middle East, but it offers  great opportunities of tourism. It has become a center of attraction for a number of tourists because of its rich culture, architectural marvels, natural wonders, and a welcoming atmosphere. From its stunning desert landscapes to its modern cities and rich culture, there are enormous marvels to explore in Qatar.
Reasons Why Qatar is Good Tourism Place
Here are some of the reasons why Qatar is a good tourism place:
Natural beauty
Qatar has a variety of natural landscapes, including deserts, beaches, and mangroves. Tourists can enjoy activities such as dune bashing, sandboarding, swimming, and kayaking.
Culture and heritage
Qatar has a rich culture and heritage, which is reflected in its museums, mosques, and souqs. Tourists can learn about Qatar's history and culture by visiting the National Museum of Qatar, the Museum of Islamic Art, and the Souq Waqif.
Modern amenities
Qatar is a modern country with a high standard of living. Tourists can enjoy comfortable hotels, world-class restaurants, and modern shopping malls.
Safety and security
Qatar is a safe country with a low crime rate. Tourists can feel comfortable walking around alone, even at night.
Let's explore few of the best Qatar's Marvels and top tourism spots for travellers.
Souq Waqif

The Pearl-Qatar

Desert Safari

The Museum of Islamic Heart

Katara Cultural Village

The Inland Sea (Khor Al Adaid)

Sealine Beach Resort

Barzan Towers 

Katara Mosque
Read More:  Top 10 Places to Visit in Dubai
Top Tourism Destinations
Souq Waqif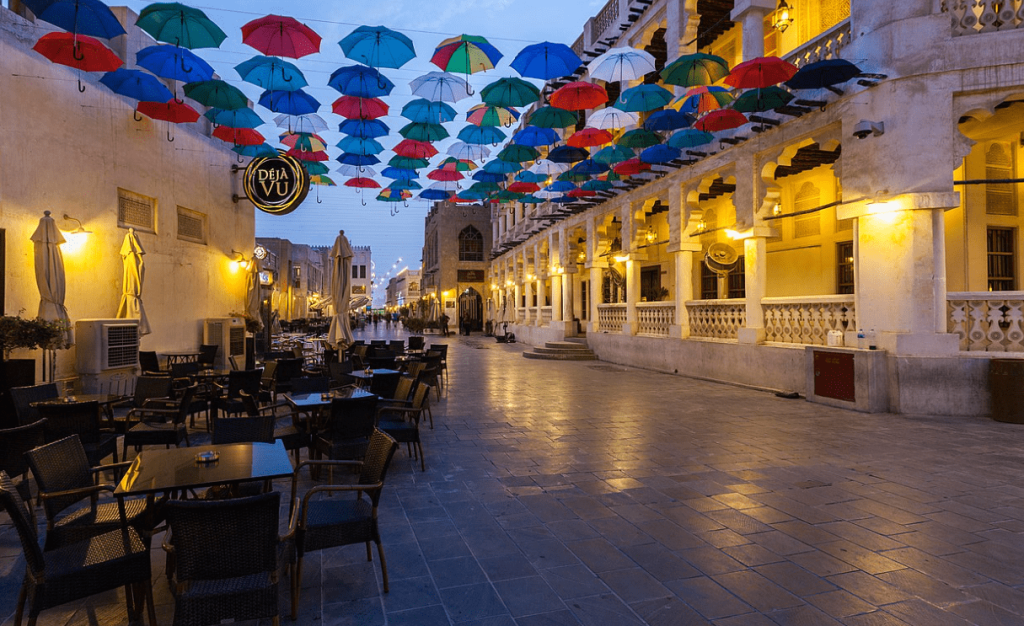 Souq Waqif is a great marketplace located in the heart of Doha, Qatar. This traditional market is a worthy point for every tourist looking to view Qatari culture.The small lanes are filled with stores offering various traditional items such as spices, fabrics, and handmade crafts. The atmosphere is bustling, and the aromas of spices and local cuisine fill the air. Souq Waqif is also a hub for entertainment, with street performances and live music adding to the lively ambiance. It's an excellent place to shop for souvenirs, savor authentic Qatari cuisine, and experience the rich heritage of the region.
The Pearl-Qatar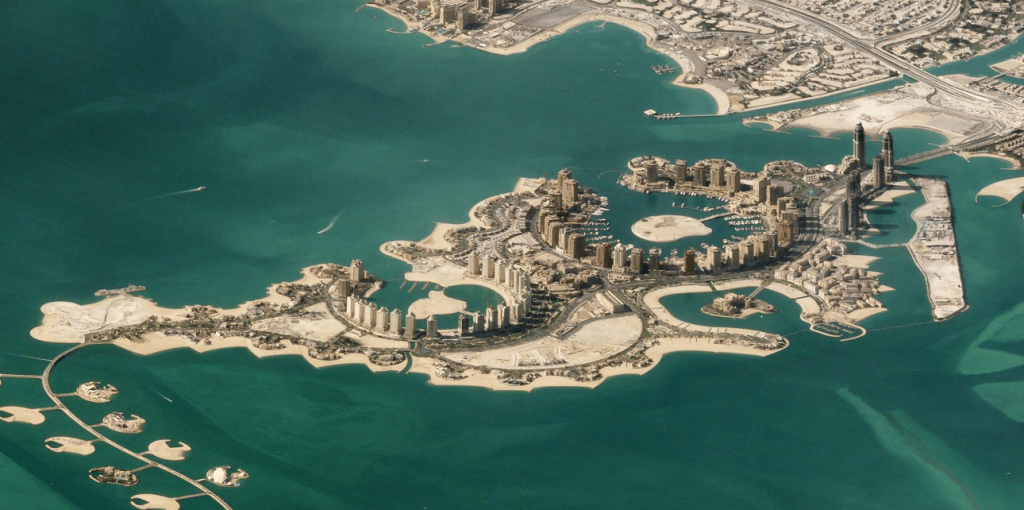 The Pearl-Qatar is a stunning, man-made island that offers a luxurious and upscale experience in Qatar. It's renowned for its lavish lifestyle, high-end shopping, fine dining, and entertainment options. The architecture and design of The Pearl are reminiscent of Mediterranean coastal towns, making it a unique place to explore in Qatar. The island is home to luxury apartments, villas, and elegant townhouses. Whether you're looking to enjoy a leisurely shopping day or indulge in gourmet cuisine with a view of the marina, The Pearl-Qatar is the perfect destination for a taste of opulence.
Desert Safari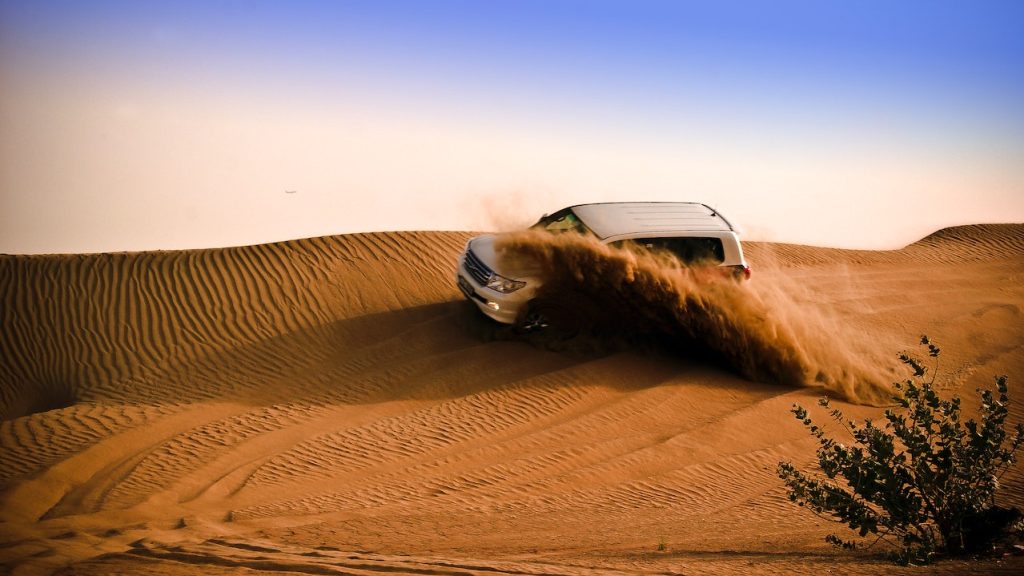 Qatar's desert is a vast and fascinating landscape that begs to be explored. One of the best ways to experience it is through a desert safari. You can embark on thrilling dune bashing adventures, go camel riding, and immerse yourself in the unique desert culture of Qatar. Many of these trips involve going to a desert camp where you can have traditional Bedouin meals, get henna tattoos, and gaze at the stars in the clear desert night. A desert safari is a classic Qatari adventure, giving you the opportunity to see the breathtaking desert and its golden sand dunes. It's a must-try for those who love adventure and nature.
The Museum of Islamic Art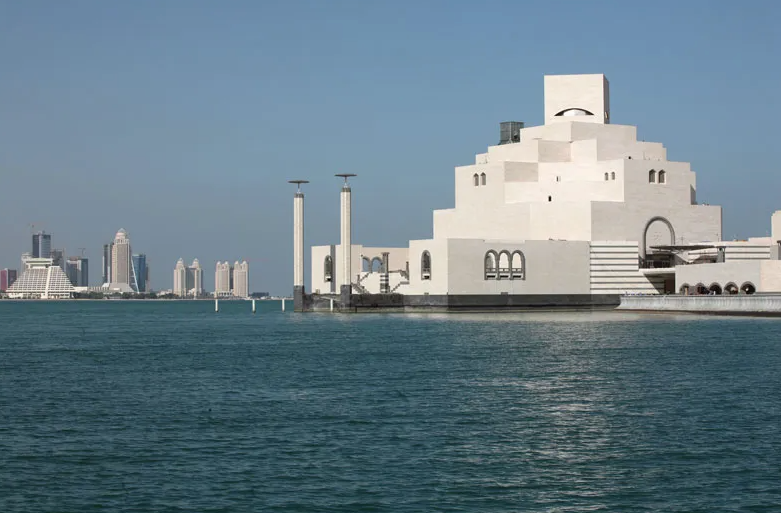 It is a world-class museum with a collection of Islamic art from around the world. The museum was designed by renowned architect I.M. Pei, situated in Doha stands as an architectural masterpiece on its own. Located on the picturesque waterfront, the museum is home to an impressive collection of Islamic art spanning centuries. The exhibits include calligraphy, ceramics, textiles, and other artifacts from various Islamic cultures. The museum's interior design and the stunning views of the Doha skyline from its expansive windows add to the experience. It's a place where art, culture, and architecture beautifully converge, making it a must-visit for art enthusiasts. 
Katara Cultural Village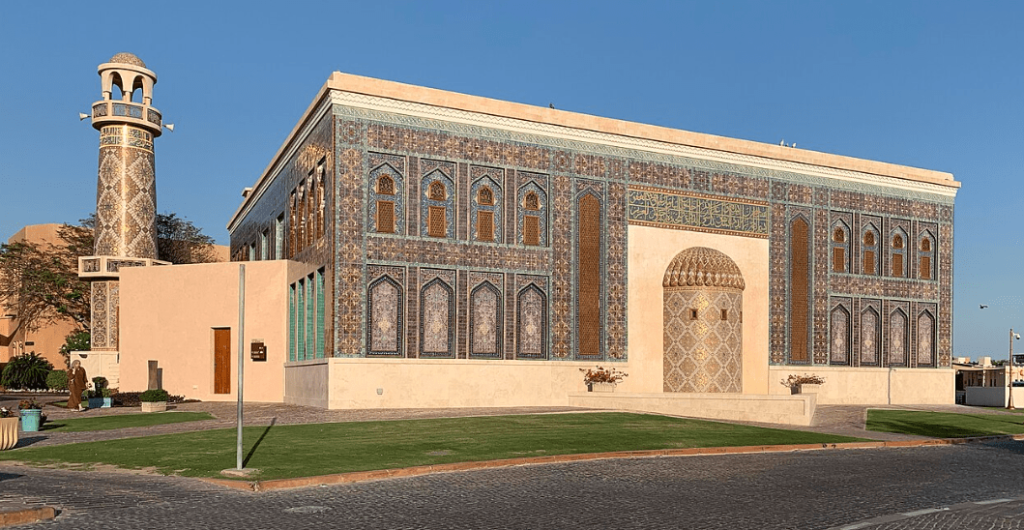 Katara Cultural Village is a thriving cultural centre in Doha that provides a wide variety of cultural and artistic experiences. It holds a number of occasions, festivals, and exhibitions all through the year to honour Qatar's history and other cultures. The village offers a beach, an amphitheatre, art galleries, and a wide variety of restaurants. You'll come across sculptures and art installations as you stroll along its thoughtfully constructed promenades, adding to its distinctive vibe. Katara is a vibrant location that appeals to a variety of interests, whether you're into music, art, or just taking in the atmosphere.
The Inland Sea (Khor Al Adaid)
The Inland Sea, also known as Khor Al Adaid, is a natural wonder nestled within the borders of Qatar. This UNESCO recognized site is a testament to the astonishing beauty of the Qatari desert.The Inland Sea is exceptional since it is the meeting point between the desert and the sea. The calm waters of the Gulf are set against a striking backdrop of towering sand dunes. It's a site of contrasts, where the golden desert sands and the azure sea combine to form an incredible and bizarre scene. The Inland Sea is not only a sight to see; it is also a vital ecological site and the habitat of several wildlife species. It is a great site for individuals wishing to connect with nature and witness a genuinely amazing natural phenomenon because visitors may enjoy both the beauty of the desert and the calmness of the scenery.
Sealine Beach Resort is a five-star resort located in Mesaieed, Qatar. It is situated on a private beach, offering guests stunning views of the Arabian Gulf. Families, couples, and business travelers enjoy the resort.
Sealine Beach Resort can be found in the peaceful neighbourhood of Sealine, offers a special fusion of desert charm and coastal beauty, making it a paradise for tourists looking for both adventure and relaxation. 
It provides a diversified rane of accomodation choices, such as rooms, suites, chalets, and villas. Each accommodation is tastefully decorated and equipped with contemporary conveniences including minibars, flat-screen TVs, and complimentary Wi-Fi.Along with its lodging, food, and activities.
Sealine Beach Resort also offers a variety of other amenities, including a spa, a fitness center, a business center, and a shopping mall. The resort also has a conference center that can accommodate up to 1,000 people.
In short, Sealine Beach Resort can be the best option for vacation holidays. 
The resort has boundless amenities to enjoy, and it's in a beautiful spot by a private beach, making it a great place to get away from your usual busy life.
Barzan Towers
 
The Barzan Towers are a pair of watchtowers located in the Umm Salal Mohammed district of Qatar. They were built in the late 19th century by Sheikh Mohammed bin Jassim Al Thani, the founder of modern Qatar, to protect the area from invaders. The towers are made of coral and limestone, and they are each 16 meters high.
The Barzan Towers are a popular tourist destination, and they offer visitors a glimpse into Qatar's rich history and culture. The towers are also a great place to enjoy the stunning views of the surrounding desert and coastline.
The Barzan Towers are a striking example of traditional Qatari architecture. The towers' design, featuring small windows and thick walls, helped maintain a cool interior climate during the scorching desert summers, a testament to the ingenuity of the builders.
For photography enthusiasts and passionate tourists, a visit to the Barzan Towers can be an excellent experience.The site also offers a glimpse into the traditional way of life in Qatar, making it a remarkable educational experience for all ages. Barzan Towers offer a unique journey back in time, allowing visitors to connect with Qatar's rich heritage
Katara Mosque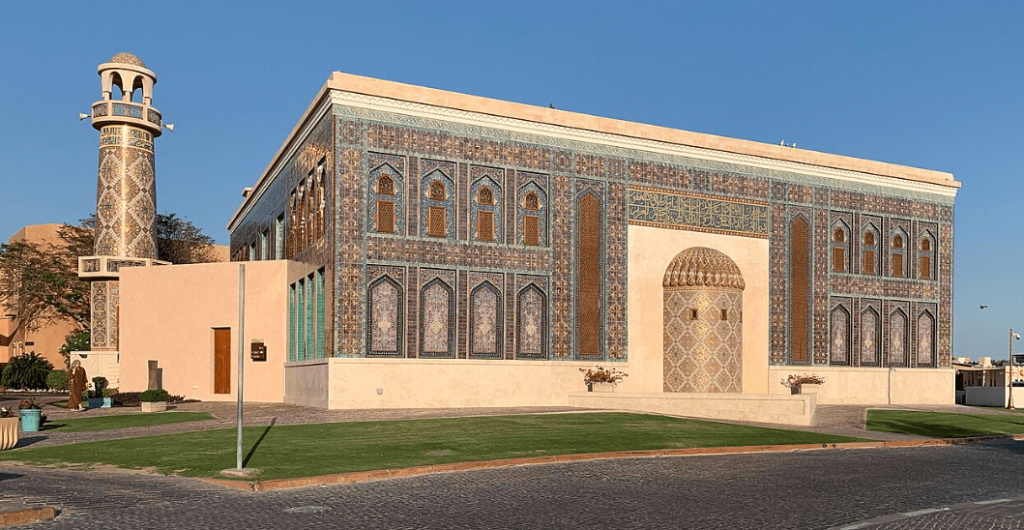 Katara Mosque is a beautiful and iconic mosque located in Doha, Qatar. It is one of the most popular tourist attractions in the country, and is known for its stunning architecture and welcoming atmosphere.It stands as a marvelous architectural piece within the heart of the Katara Cultural Village. It distinguishes itself from the typical mosque design in Qatar with a breathtaking exterior adorned predominantly with shades of blue, complemented by hints of red and yellow. The three towering spires that seem to stretch for the sky contrast beautifully with the intricate and intriguing patterns of the mosaic walls.
Katara Mosque is designed by the globally renowned Turkish mosque designer, Zainab Fadil Oglu. A team of experts from the Dolma Palace in Istanbul worked on the mosque's detailed decorations, making it even more attractive.
The outer surface of the mosque is adorned with vibrant turquoise and purple mosaics, creating a stunning visual appearance. The interior of the mosque is equally impressive, with a design that adds an extra layer of opulence. The architectural features, including the minaret, the dome, and the mihrab, draw inspiration from famous mosques in cities across the Muslim world. 
Katara Mosque is a place where people of all faiths are welcome. The mosque's staff are always happy to answer questions and help visitors learn more about Islam.The mosque's museum is a great place to learn about the history of Islam in Qatar. The museum has a variety of exhibits, including artifacts, photographs, and videos.
State Grand Mosque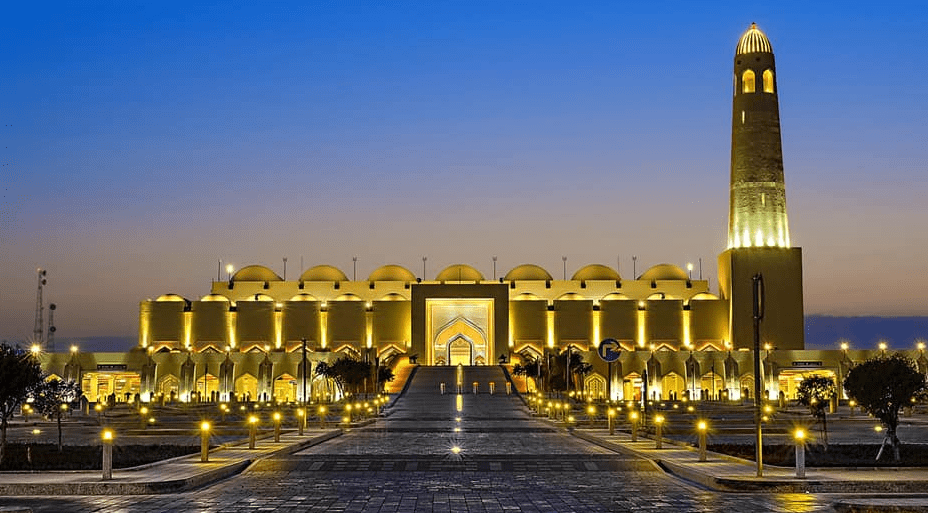 The State Mosque of Qatar stands as one of the biggest mosques in the country. It was renamed in honour of Imam Muhammad Ibn Abdul Wahhab, a Muslim scholar and well-renowned reformer of Islam. His teachings placed a strong emphasis on adhering to the fundamental principles of Islam as demonstrated by the Salaf and eschewing heretical deviations.
This grand mosque is situated in Doha's Jubailat district, just south of the Corniche and overlooking the Qatar Sports Club in West Bay. Built in the first half of the 20th century, the mosque's architecture is a captivating blend of traditional Arabic and modern styles, featuring numerous domes, sparkling half-moons, a minaret, and spacious outdoor areas. The distinctive curved roof of the mosque is a magnificent example of architectural excellence and is a famous landmark in Doha.
The mosque's exterior has a fortress-like appearance, while the interior is truly awe-inspiring. The high domed roof and white stone pillars create an expansive and beautiful space. At night, the mosque is illuminated with enchanting purple lights, making it an even more breathtaking sight. This grand mosque has become a center of attraction for visitors and it is a must-see destination for travelers to Qatar.
Conclusion
Qatar is a welcoming and inclusive country, and it is committed to providing a positive experience for all tourists. Qatar is a great destination for traveller of all ages and different interests. Whether you are looking for a cultural experience, a relaxing beach vacation, or a thrilling desert adventure, Qatar is the best option.