Bahria Town Rawalpindi

Satellite Town

Capital Smart City

Chakri Road Rawalpindi
Rawalpindi, known for its bustling real estate market, offers numerous opportunities for commercial investment. This city has emerged as a prime destination for commercial investment in recent years. With its strategic location near the capital city of Islamabad and a rapidly growing economy, Rawalpindi offers numerous opportunities for entrepreneurs and investors looking to establish or expand their businesses.
In this blog, we will explore the top areas for commercial investment in Rawalpindi, including Bahria Town, Satellite Town, Capital Smart City, and Chakri Road.
Bahria Town Rawalpindi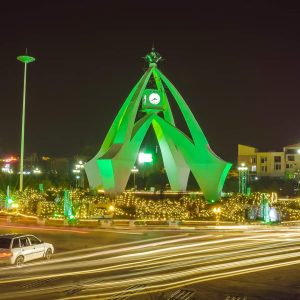 When it comes to commercial investment opportunities in Rawalpindi, Bahria Town stands out as a prime location. Developed by the renowned Bahria Town Pvt. Ltd., this planned community has become a symbol of modernity, offering many commercial prospects. It offers a wide range of commercial plots, office spaces, and shopping malls, providing a favorable environment for businesses to thrive. A large residential population within Bahria Town ensures a steady flow of customers, making it an attractive option for retailers and service providers. 
Let's explore why Bahria Town is considered the best place for commercial investment.
Well-Planned Infrastructure
One of the primary reasons why Bahria Town attracts commercial investors is its well-planned infrastructure. The community is meticulously designed, featuring wide roads, modern architecture, and aesthetically pleasing surroundings.
Diverse Commercial Property Options
Bahria Town offers a wide range of commercial property options to cater to different business requirements. Investors can choose from commercial plots to ready-to-use shops and office spaces according to their specific needs. 
Prime Location
The strategic location is another compelling factor that makes it an ideal choice. It is situated near Islamabad, offers easy access to major transportation routes, and ensures a steady flow of visitors and customers. 
High-End Residential Community
A high-end residential community within Bahria Town creates a thriving business market. The residents of Bahria Town are typically affluent individuals and families, which translates to a strong consumer base with a higher purchasing power. This demographic profile presents an excellent opportunity for retailers, service providers, and luxury brands to establish their presence and cater to the upscale market.
Modern Amenities and Facilities
Bahria Town offers a wide range of superior facilities and amenities. The project provides round-the-clock security, ensuring a safe and secure environment for commercial activities. An uninterrupted power supply guarantees smooth operations for businesses. Additionally, the project features spacious mosques, reputable educational institutes, fully equipped medical centers, shopping malls, restaurants, parks, playgrounds, and recreational spots, creating a holistic and self-sufficient community.
Satellite Town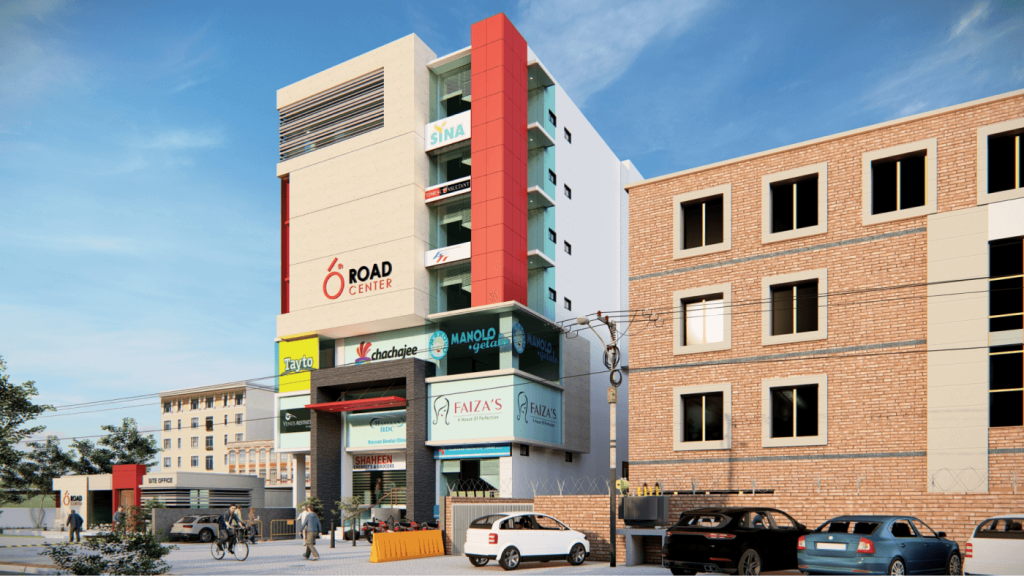 In recent years, satellite towns have emerged as attractive options for entrepreneurs and investors looking to establish or expand their businesses. This town, located near major cities, offers many advantages, making it an ideal choice for commercial investments. Governed by the Rawalpindi Development Authority (RDA), this thriving region serves as both a commercial hub and a residential area.
Proximity to Urban Centers: Satellite town is near major urban centers, offering accessibility and convenience. It provides an excellent alternative to overcrowded and expensive city locations while maintaining easy access to the amenities and resources of the metropolitan area. 
Lower Costs and Affordability: One of the significant advantages of investing in satellite town is the lower cost of real estate compared to prime locations in cities. Land prices and rental rates are more affordable in these areas, allowing businesses to secure larger spaces or properties at a fraction of the cost. 
Infrastructure and Connectivity: The availability of reliable transportation options enables the smooth movement of goods and services, ensuring businesses can efficiently cater to local and regional markets. Additionally, the satellite town has essential amenities such as schools, healthcare facilities, shopping centers, and recreational areas, making them attractive to employees and residents.
Emerging Markets and Consumer Base: Satellite Town is in regions with emerging markets and expanding populations. As urban areas become more congested, people and businesses are looking for alternative locations that offer a higher quality of life. Satellite town present an opportunity to tap into these growing consumer bases and provide goods and services that cater to their needs. Moreover, diverse economic activities in satellite town create a thriving business ecosystem, with various industries complementing and supporting each other's growth.
Chakri Road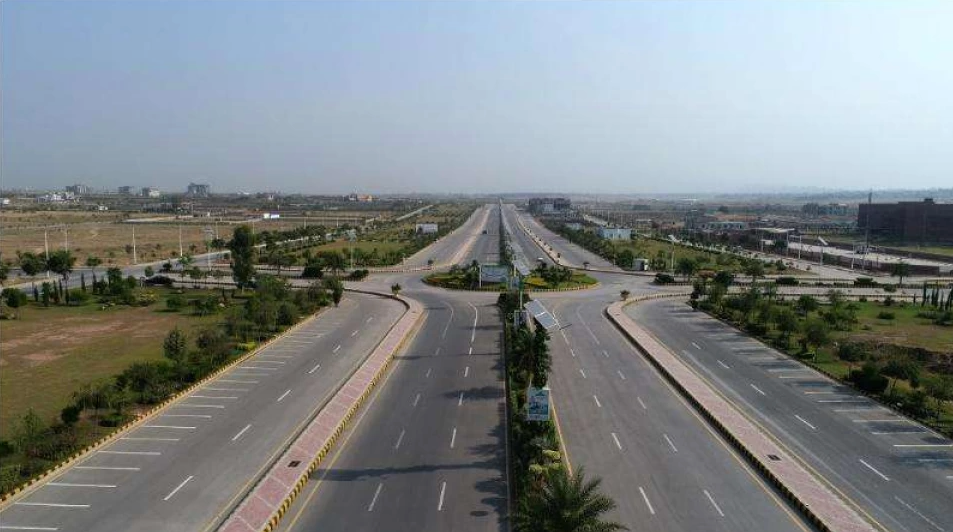 Chakri Road is an essential link connecting Chakri village to an Army Airbase and is a vital route for rural and urban commuting. The area surrounding Chakri Road is witnessing rapid development, presenting an excellent opportunity for commercial investment. The approval of the Rawalpindi Ring Road Economic Corridor Project, a 64-kilometer-long mega infrastructure undertaking, has further fueled the growth and potential of this region.
Residential and Commercial Integration
The residential societies and commercial avenues located along Chakri Road have infrastructure improvements in the area. This integration of residential and commercial spaces makes Chakri Road an attractive choice for commercial investment. Investors can benefit from the proximity to a growing population and a ready consumer base, creating a thriving commercial environment.
Amenities and Facilities
The housing schemes situated on or near Chakri Road offer a range of amenities and facilities required for a high-quality lifestyle. These include reliable water, electricity, gas access, well-maintained waste management, and sewerage systems. Additionally, Chakri Road boasts a plethora of educational institutes, hospitals, parks, and commercial areas. This ensures that businesses have access to a supportive infrastructure and a steady flow of customers, making it an ideal location for commercial ventures.
Affordability and Variety
Chakri Road presents various commercial investment opportunities to suit various budgets and requirements. The price of commercial plots may vary depending on their location, but with extensive development, investors can easily find properties that fall within their budget. Whether you are a small business owner or a large-scale investor, Chakri Road offers a wide range of options for commercial investment, ensuring there is something for everyone.
Capital Smart City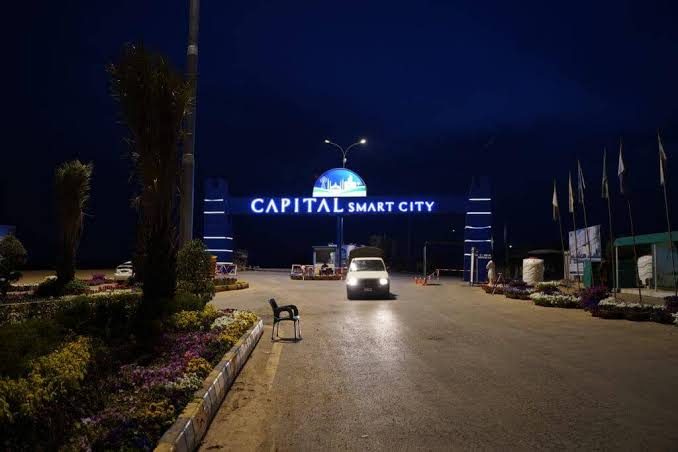 Capital Smart City, developed by Future Development Holdings, stands out as the country's first smart city, boasting international-standard infrastructure, eco-friendly development, modern housing, commercial options, and an environment-friendly lifestyle. Capital Smart City's strategic location in Rawalpindi is one of its key advantages. Situated near the Islamabad International Airport and easily accessible from the Lahore-Islamabad Motorway, the housing scheme offers excellent connectivity. Furthermore, the eastern route of the China-Pakistan Economic Corridor (CPEC) runs alongside this gated community, adding to its appeal. Approved by the Rawalpindi Development Authority (RDA), Capital Smart City enjoys a secure and regulated environment for investors.
The development of Capital Smart City is structured around separate residential, commercial, and recreational sectors. The commercial sector comprises various components designed to cater to the diverse needs of businesses and investors. Notable areas within the commercial sector include Financial Square, Aviation Village, and FDH Buildings. These commercial zones offer a range of options, allowing investors to choose the space that best suits their requirements.
Investing in Capital Smart City offers promising returns due to its rapidly growing popularity and increasing demand for commercial spaces. The smart city's unique blend of luxury, sustainability, and modern infrastructure has attracted significant attention from investors and businesses alike. 
Conclusion 
Rawalpindi boasts diverse commercial investment prospects, from upscale developments like Bahria Town to established areas like Satellite Town, Capital Smart City, and Chakri Road. Investors can choose from various options based on their preferences and goals. With the city's growing economy, favorable investment climate, and expanding infrastructure, now is the time to explore Rawalpindi's commercial potential.