Peshawar is a city in Khyber Pakhtunkhwa. Besides its rich history, this city in Pakistan is home to some of the best medical colleges in the world. These colleges offer high-quality education and training to students who aspire to become doctors.
These colleges are all affiliated with well-respected universities and offer a variety of courses and programs. This guide will help you choose one of the top medical colleges in Peshawar for your studies. If you are looking for a top-notch medical education, then one of these colleges in Peshawar is a great option for you.
Top Medical Colleges in Peshawar
When pursuing a career in medicine, the foundation you lay during your academic years can significantly shape your future. Therefore, take your time researching the best institution for your studies. For your convenience, we've gathered a list of 10 top medical colleges in Peshawar. All the institutions mentioned in this blog are top-notch and help you build your future. 
Peshawar Medical College
Peshawar Medical College, initiated by Prime Foundation, aims to provide high-quality medical education aligned with the healthcare needs of Khyber Pakhtunkhwa (KP) and Pakistan. The college aims to train skilled medical professionals with strong ethical values, research capabilities, and a commitment to community well-being. 
Recognized by the Pakistan Medical Commission, the college excelled in inspections and is open to local and international students from diverse backgrounds. Managed by a Board of Governors, the college strives to produce graduates with comprehensive medical knowledge, clinical expertise, emergency handling skills, and a holistic understanding of patients. Additionally, the focus is on fostering research skills, ethical principles, and community leadership qualities.
Facilities
Library

Books Shop

Uniform

Hostel

Masjid

Cafeteria

Transportation

Gym / Indoor Sports

Day Care Center

Learning Resource Center

First Aid

Security / Emergency Contacts

Counseling/Student Assistance Program

Student Affairs
Khyber Girls Medical College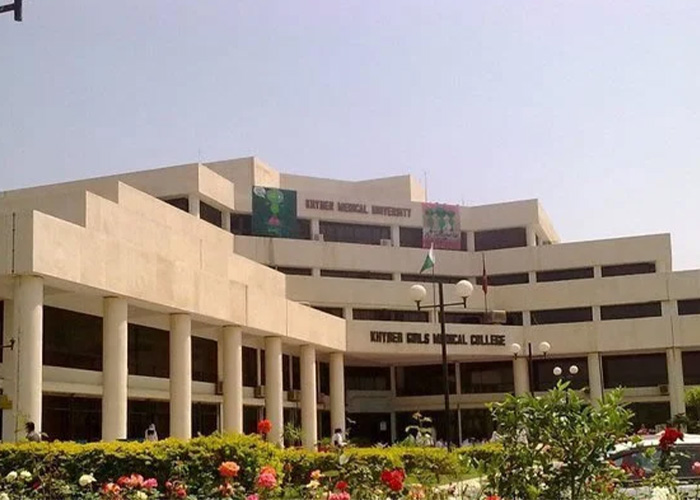 Khyber Girls Medical College was established in 2004 as part of Khyber Medical College Peshawar and later became independent. It is the first public medical college for girls in Khyber Pakhtunkhwa, Pakistan. Recognized by the Pakistan Medical Commission (PMC), it admitted its inaugural batch in 2005. The college is associated with Hayatabad Medical Complex, a nearby teaching hospital. It boasts a Self Learning and Resource Center (SLRC) with internet access, focusing on staying updated with modern teaching techniques like Problem-Based Learning (PBL). The college emphasizes academics and extracurricular activities, boasting an excellent academic record. 
Facilities
Clinical Skills Lab

Health Facility

Library

SLRC

Transport

Hostel

Cafeteria
Jinnah Medical College Peshawar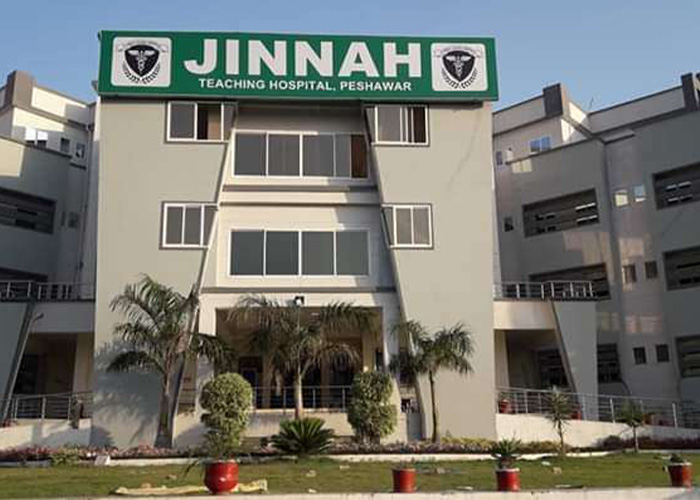 Jinnah Medical College is a prominent private medical institution in Peshawar, known for its quality education. The college was founded to deliver exceptional medical training. The college is situated near the Peshawar Motorways toll plaza and is affiliated with KMU for degree granting. It offers various departments and academic and non-academic amenities like separate hostels, labs, and sports facilities. Eligibility involves MDCAT or SAT-II scores and a college interview. The MBBS fee is 850,000 rupees, similar to other private medical colleges in the area. The college is associated with teaching hospitals, including GHQ Teaching Hospital Charsadda and Jinnah Teaching Hospital.
Facilities 
Auditorium

Skill Lab

Lab

Museum

Sports

Hostels & Transports
Rehman Medical College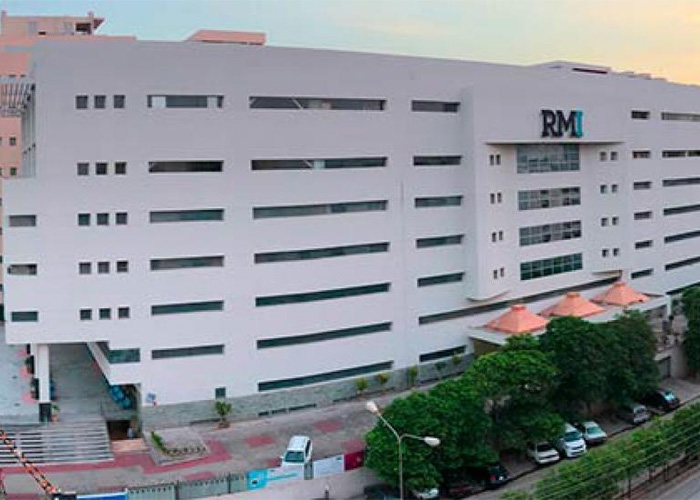 Rehman Medical College (RMC) is a prominent institution dedicated to providing high-quality medical education that aligns with modern educational strategies. RMC stands out as a pioneer in integrated curriculum, consistently enhancing its content, teaching methods, and assessment techniques. This is achieved through various formats, including face-to-face classes in large and small groups and online learning through Learning Management Systems. The college also provides opportunities for hands-on practice in clinical skills labs, both physically and virtually.
RMC is a place where knowledge evolves into practical skills, skills develop into competencies, and competencies ultimately lead to excellence. The college's dedicated staff and supportive environment play a vital role in this process. It's a challenging journey that requires shedding old beliefs, embracing new learning, and enduring difficulties to uncover the hidden potential within.
Facilities 
RMC offers top-notch facilities, a conducive environment, and advanced equipment to help students achieve their aspirations. From academic tutoring, a student-centred library, and a learning commons to state-of-the-art simulation, skills labs and fully-equipped laboratories, RMI continually strives to enhance educational experiences.
Khyber Medical University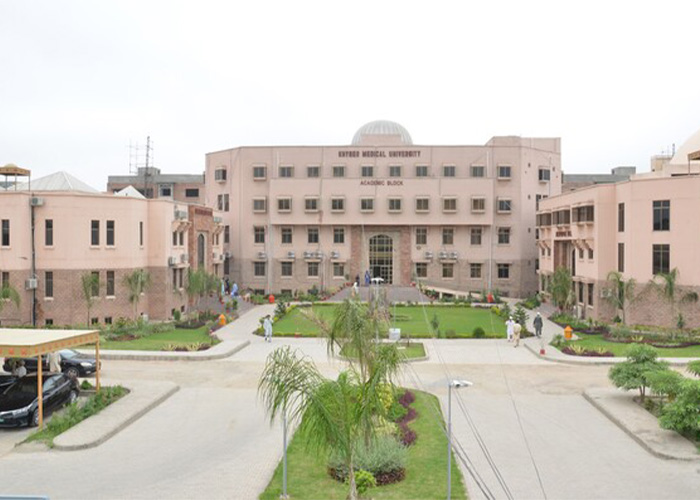 Khyber Medical College, founded in 1954, is one of Peshawar's oldest and most prestigious medical schools. It is affiliated with Khyber Medical University and has a history of producing highly skilled doctors. 
KMC offers undergraduate and postgraduate programs in medicine, dentistry, and nursing. With a highly qualified faculty of over 600 experienced teachers, the college provides top-quality education supported by a modern library, well-equipped labs, and clinical facilities for practical training. KMC's strict admission policy ensures the enrollment of the brightest students through entrance tests, producing renowned doctors and medical professionals who have earned the institution international recognition for excellence in medical education and research.
Pakistan International Medical College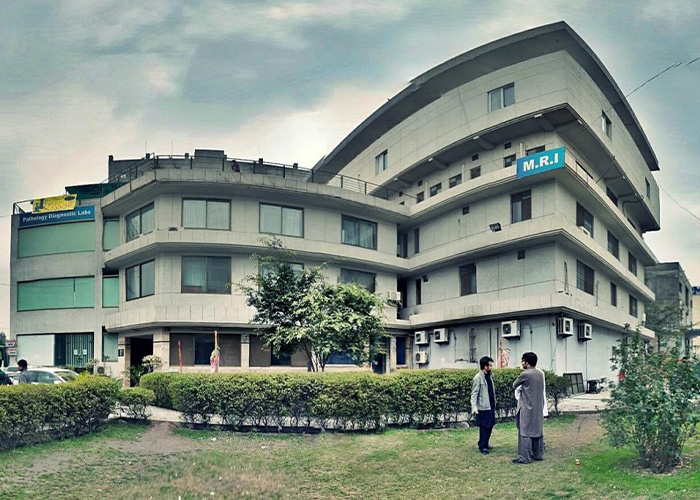 PIMC started in 2009 and is known for being good at teaching people how to become great healthcare professionals. It is recognized by the Pakistan Medical and Dental Council and is connected to the famous Khyber Medical University in Peshawar. It's in a smart location in Phase-V, Hayatabad Peshawar, close to important national buildings and places.
The big idea behind PIMC is to improve medical education and train students to be top-notch healthcare experts. They want to create a positive change in how doctors are trained so they can help care for people's health much better.
What makes PIMC special is the way they teach. It's not just about reading books and taking tests. They focus on giving students practical skills and real-life experience. They want their students to understand medical science well and also learn important qualities like being kind, honest and putting patients first.
National Medical College (NWSM)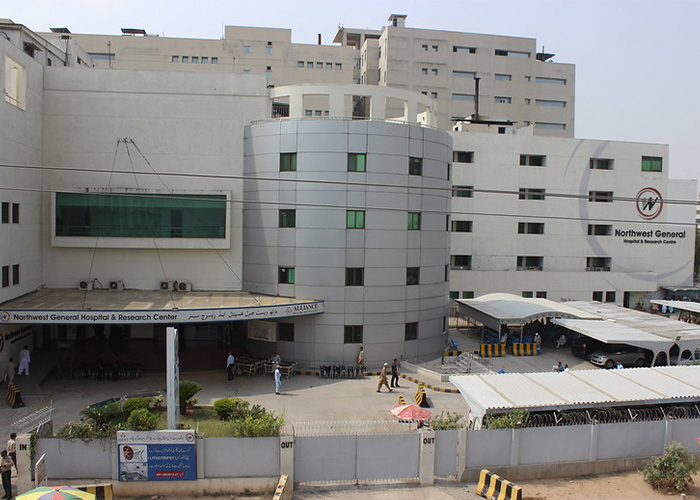 National Medical College (NWSM) has a special way to help students make the best choices for their future. 
The college doesn't just want to teach students to be doctors; they want to make them great scientists and leaders in healthcare. They believe in using the best information and taking care of the whole person, considering their beliefs and background. That's why they have the electives program. Students can learn things that books can't teach by going to different medical places. They can see how medicine works in real life and different cultures. This adventure helps them prepare for a successful career in medicine, where they can help people from all walks of life. NWSM dreams of being good at teaching medicine and doing research, not only in their own country but all around the world.
Muhammad College Of Medicine
Muhammad College of Medicine in Peshawar, Pakistan, is a prime destination for those passionate about medicine. Through a comprehensive five-year MBBS program, the college shapes students into capable and caring medical professionals. By merging essential topics like anatomy, pathology, and ethics with hands-on experience, the program readies graduates for practical medical scenarios. 
Cutting-edge facilities, including labs, a rich library, and clinical training hubs linked to leading hospitals, provide a supportive backdrop for learning. With adept faculty members using interactive teaching techniques, students are primed for diverse medical careers like general practice, surgery, and pediatrics. The college's accomplished alumni underline its commitment to providing top-tier medical education and fostering success in the field.
Kabir Medical College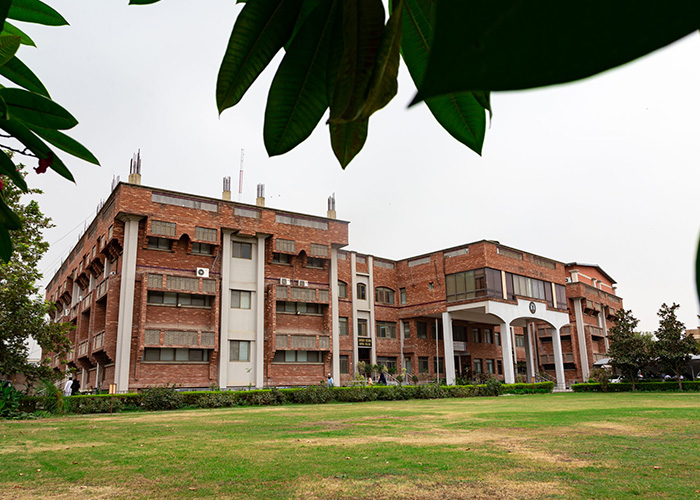 Kabir Medical College has earned a place of honour in the World Health Organization's "World Directory of Medical Schools," signifying its prestigious standing in medical education. Educational Commission of Foreign Medical Graduates (ECFMG) grants special permission to college graduates to take the United States Medical Licensing Examinations (USMLE) Step 1 and Step 2. 
Beyond its undergraduate programs, Kabir Medical College has also been acknowledged for its advanced postgraduate programs in basic medical sciences. This recognition demonstrates the college's dedication to advancing medical knowledge and fostering research. 
Also, Explore Top 13 Best Historical Places in Peshawar
Post Graduate Medical Institute Peshawar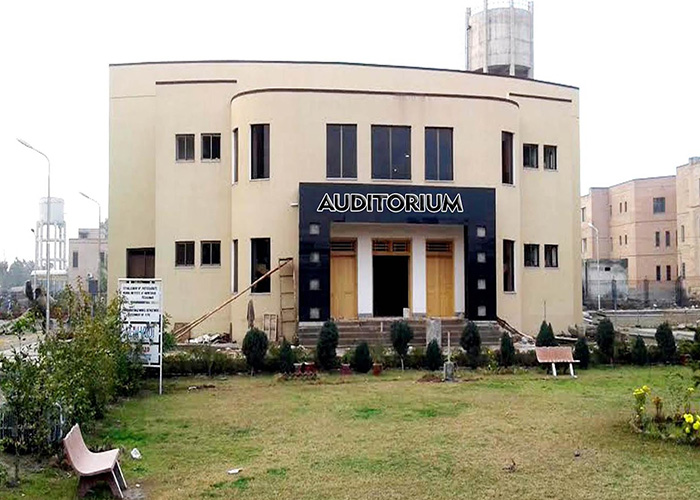 In 1984, the Government of Khyber Pakhtunkhwa set up the Postgraduate Medical Institute at Lady Reading Hospital in Peshawar to meet the province's growing healthcare needs. The institute had three main goals: to train doctors with advanced skills to offer specialized care in communities, to become a top-quality healthcare center for the region, and to encourage research in health.
The institute improved medical education by using better training programs, practical learning, and modern skill labs. They focused on values like ethics, respect, and honesty, shaping skilled and caring doctors. Today, the institute stands strong, showing how its thoughtful beginnings have made a big difference in healthcare and inspired everyone involved.
Conclusion
Peshawar stands as a beacon of exceptional medical education, hosting a selection of esteemed institutions that have played pivotal roles in shaping the healthcare landscape of Pakistan and beyond. These top medical colleges in Peshawar are not just educational establishments; they are centers of excellence, commitment, and innovation.