On Wednesday, 9 Aug 2023, President Arif Alvi dissolved Pakistan's Lower House of Parliament on the advice of outgoing Prime Minister Shehbaz Sharif. This was done in preparation for a national election without former Prime Minister Imran Khan, who has been jailed and barred from politics for five years. Khan was ousted from power last month after losing a no-confidence vote in parliament. This move is a big step towards the upcoming national elections to be held in October or November. However, the process is expected to exceed the time and could take as much as 6 months.
After the dissolution of the lower house of parliament, Anawar-Ul-Haq has been named as caretaker Prime Minister of Pakistan till the next elections. 
Anwaar-ul-Haq Kakar: Caretaker Prime Minister of Pakistan 2023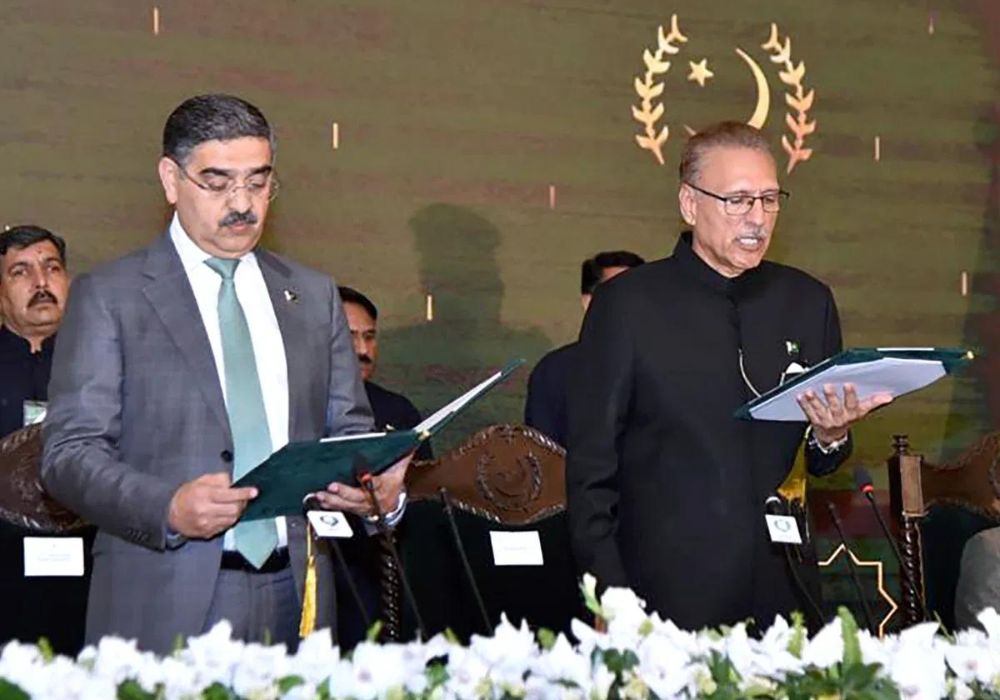 In a surprising turn of events, Anwaar-ul-Haq Kakar has taken on the significant role of the caretaker Prime Minister of Pakistan, succeeding Shehbaz Sharif. He took oath as caretaker prime minister on Monday, 14 August 2023, after Pakistan's President Arif Alvi dissolved the lower house of parliament.
Anwaar-ul-Haq Kakar is the eighth caretaker prime minister of Pakistan. He is a newcomer to Pakistani politics and the youngest caretaker prime minister in the country's history. He belongs to the Kakar tribe of Balochistan. He was born in Quetta, the provincial capital of Balochistan, and entered politics at the turn of the century. 
He previously served as a spokesperson for the Balochistan provincial government in 2013. He is one of the founders of the Balochistan Awami Party (BAP), which was created in 2018. He was elected to the Senate of Pakistan as an independent candidate in a general seat from Balochistan in 2018 and took oath as Senator on 12 March 2018. He is the youngest interim PM in the country's history. 
What Challenges Lies Ahead of Caretaker Prime Minister?
There are a number of problems facing Pakistan on various fronts. As a caretaker Prime Minister of Pakistan Anwaar-ul-Haq Kakar has to face these problem. Some of the main issues ahead of caretaker are as below;
Economic Crisis and Debt Burden 
Pakistan's economy is in a precarious state, marked by low growth, high inflation, and fiscal deficits. The recent $3 billion deal with the International Monetary Fund (IMF) provided temporary relief, but the country's debt burden remains substantial. The temporary prime minister needs to make smart plans to fix the economy. He must implement effective economic reforms to stabilize the economy.
Security and Counterterrorism   
The rise in violent attacks, particularly in Khyber Pakhtunkhwa and Balochistan, threatens stability and development. The caretaker prime minister must bolster security measures, enhance intelligence sharing, and collaborate with regional stakeholders to counter extremist groups. 
China-Pakistan Economic Corridor (CPEC) Security   
The attack on Chinese workers in Gwadar underscores the need for heightened security around CPEC projects. The caretaker government must ensure the safety of infrastructure development under CPEC, a cornerstone of Pakistan's economic partnership with China. Diplomatic efforts and strong security measures are essential to protect these projects from external threats and ensure their successful completion.
Political and Constitutional Crisis   
The caretaker prime minister must navigate a complex political landscape marked by tension, protests, and constitutional concerns. As scheduled in November, ensuring transparent and fair general elections is vital for democratic stability. Engaging with opposition parties, upholding the rule of law, and creating an environment conducive to open and fair campaigning is essential to avoid further political unrest.
Election Commission and Delimitation   
Anwaar-ul-Haq Kakar has to face the dilemma between holding elections within 90 days of assembly dissolution and conducting delimitation based on the latest census poses a constitutional challenge. The law in Pakistan requires that elections only take place based on constituency delimitations, which will be based on the results of the last census. It is unclear if elections will be held on time since the Election Commission of Pakistan (ECP) says redrawing constituencies will take at least four months.
Imran Khan's Legacy and Corruption Charges   
The arrest and ouster of former Prime Minister Imran Khan, along with corruption charges against him, create a political and public perception challenge. The caretaker prime minister needs to ensure a fair and transparent legal process while preventing any undue influence on the judiciary. 
Who are the Contenders for the next elections?
Pakistan is preparing for upcoming elections, with three key contenders vying for power: Imran Khan's PTI, Shehbaz Sharif's PML-N, and Bilawal Bhutto Zardari's PPP. PTI aims to leverage Khan's absence and sympathy from supporters, though its relationship with the military poses uncertainties. PML-N, led by Shehbaz Sharif, seeks a return to power despite his brother Nawaz Sharif's exile and convictions. Meanwhile, PPP, led by Bilawal Bhutto Zardari, brings a young and dynamic leader with a political lineage. These parties will significantly impact Pakistan's future trajectory as the nation eagerly awaits the election's outcome.
Also, Read Our Blog: Prime Minister's Youth Loan Scheme – 2023