Are you looking for a place to relax and unwind in Islamabad? Head over to one of the parks in Islamabad. The city's many beautiful parks are a great place to begin your exploration of the city! As Islamabad has a large number of parks, you will find something for everyone on your list. The best part about all of these parks is that they are all free for you to visit!
In this blog post, we'll look at some of the most famous parks in Islamabad. Be sure to check out these great parks if you're looking for a place to take a stroll, have a picnic, or just enjoy the outdoors!
List of Famous Parks in Islamabad
There are a lot of parks in Islamabad, and these are just some of the best. Take the time to explore them all and find out which one is your favorite!
Lake View Park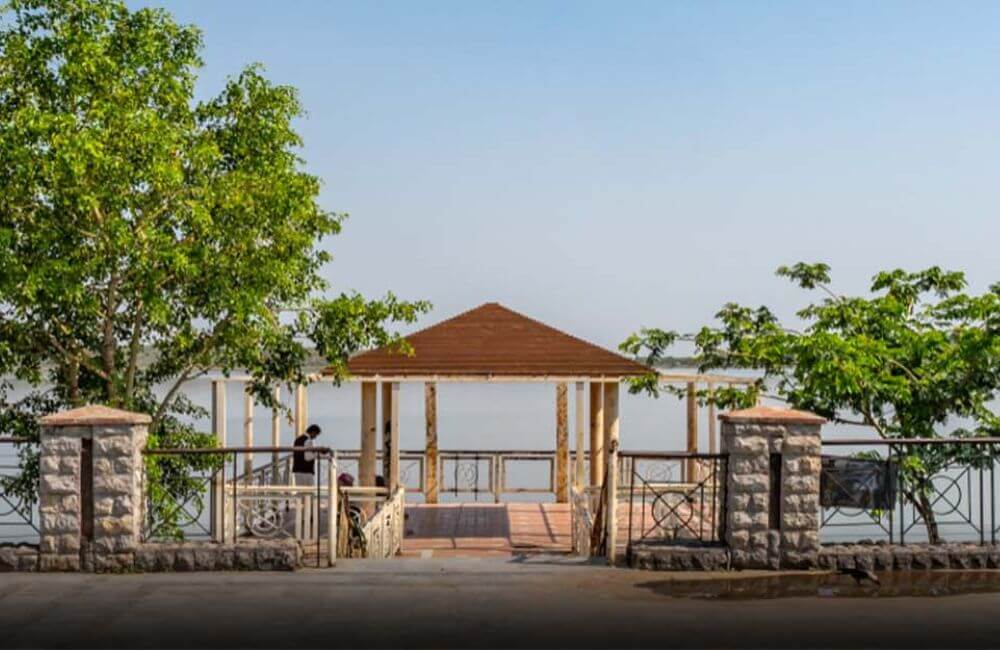 Lake view park, located next to the stunning Rawal Lake, is the wonderful Park in Islamabad. It's a great place for people who love nature, adventure, and family time. This Park is a great place to visit. It has a variety of activities to enjoy. It offers different entertainment and ride options for both adults and kids.
Things to Do at Lake View Park
Ride a passenger train or golf cart to reach the lake from the entrance for a nominal fee.

Visit the bird aviary to see a diverse collection of different bird species.

Explore the amusement park named Laila Carnival Park, which has areas for kids and wildlife. You will see a café, VR rides, an ATV racing track, and token rides. 

Have a picnic in the picnic area, which includes dedicated BBQ spots with grills.

Try adventure sports like wall (rock) climbing, quad bikes in F1 Tracks, boating, fishing, train rides, restaurants, and much more.
Location: Murree Road, Lake View Park, Islamabad Capital Territory 49510
Shakarparian National Park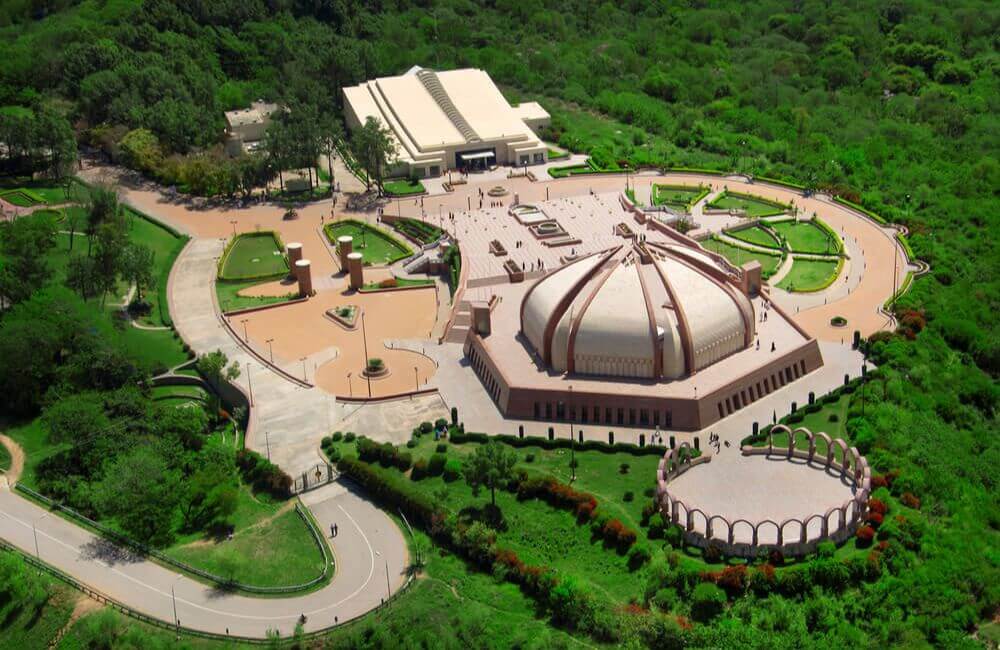 Right in the middle of Islamabad, the capital of Pakistan, is a wonderful place called Shakarparian Park. It's like two parks in one – a place to enjoy nature and have fun like you're at an amusement park. People have been coming here for a very long time because it's one of the oldest and most famous places for visitors.
The Park has a special monument called the Star and Crescent Monument. You can also find the Pakistan Monument and a Lok Virsa Heritage Museum in the premises of Shakarparian Park. 
What makes Shakarparian Park really unique is its special terraced garden. The garden has built-in steps on a hill, and it's high up at 609 meters! From there, you can see the whole city, especially at night when all the lights are shining. The garden is full of colorful flowers, making the view even more amazing.
When you visit the Park, you won't go hungry! There are cafes and restaurants where you can eat tasty food. There are two famous places to eat, the Yogi Haus restaurant and the 1969 Café. In addition, if you like to walk or jog, the Park has paths for that too.
Location: Near Zero Point, Islamabad
Fatima Jinnah Park
Fatima Jinnah Park, also known as F-9 Park, is one of the biggest parks in Pakistan that is spread across the whole F-9 sector.
The Park is named after Fatima Jinnah, who was the younger sister of a very important person in Pakistan's history, Quaid-e-Azam Muhammad Ali Jinnah. A designer named Michael Japero designed this Park, and it was officially opened in 1992.
In addition to its natural beauty, Fatima Jinnah Park also has a Megazone complex that caters to a wide range of interests. Sports enthusiasts can participate in activities such as swimming, table tennis, and snooker, while the entertainment zone offers a variety of arcade games, bowling, and even laser tag. The Park also has a variety of fast food outlets and dining options for those looking for culinary delights, as well as shops selling clothing, DVDs, and more.
The Park is not just for fun and games. It is a place where people can enjoy shows and events, such as special festivals, art displays, and celebrations for important days like Independence Day. You can also go jogging on the tracks there. And, believe it or not, people even have weddings and concerts in this Park!
Location: Jinnah Avenue, Sector F-9, Islamabad
Kachnar Park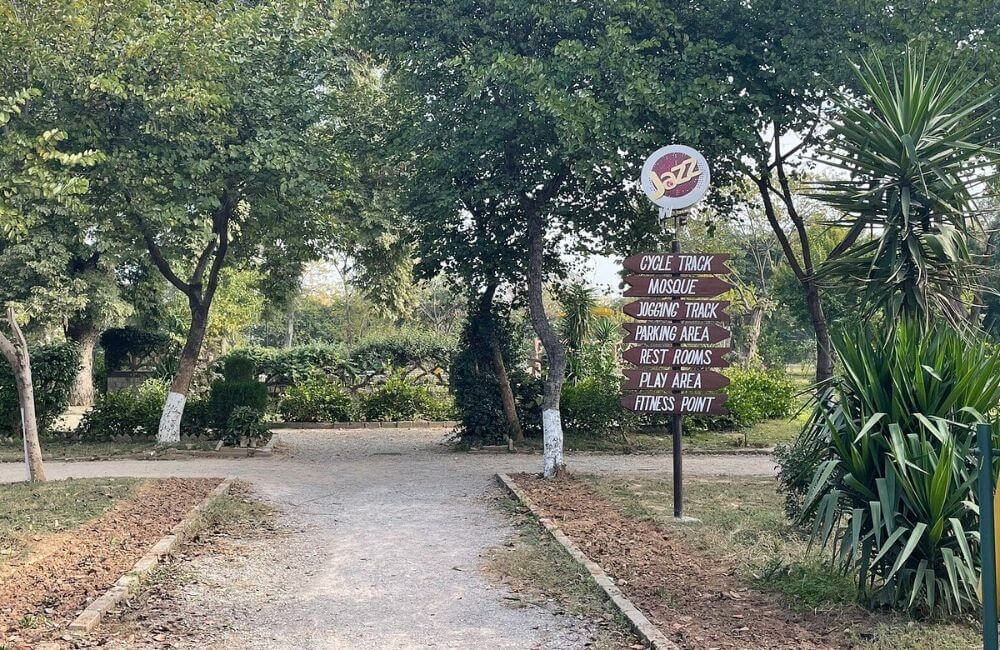 Knachar Park is located in the I-8 sector and is one of the most famous parks in Islamabad to visit. People love it because it has really good paths for jogging and running. It's also great for cycling. There are about 2.2 kilometers of tracks where you can jog or ride your bike.
If you want to stay healthy, this Park is a good spot. The Park has a special area where you can do exercises. There are benches and bars there. 
Kanchar Park is peaceful and safe. It's a good place to take a walk or go for a jog. People can relax and enjoy nature. And don't worry, there are toilets in the Park too.
Location: i-8 sector Islamabad
Daman-e-koh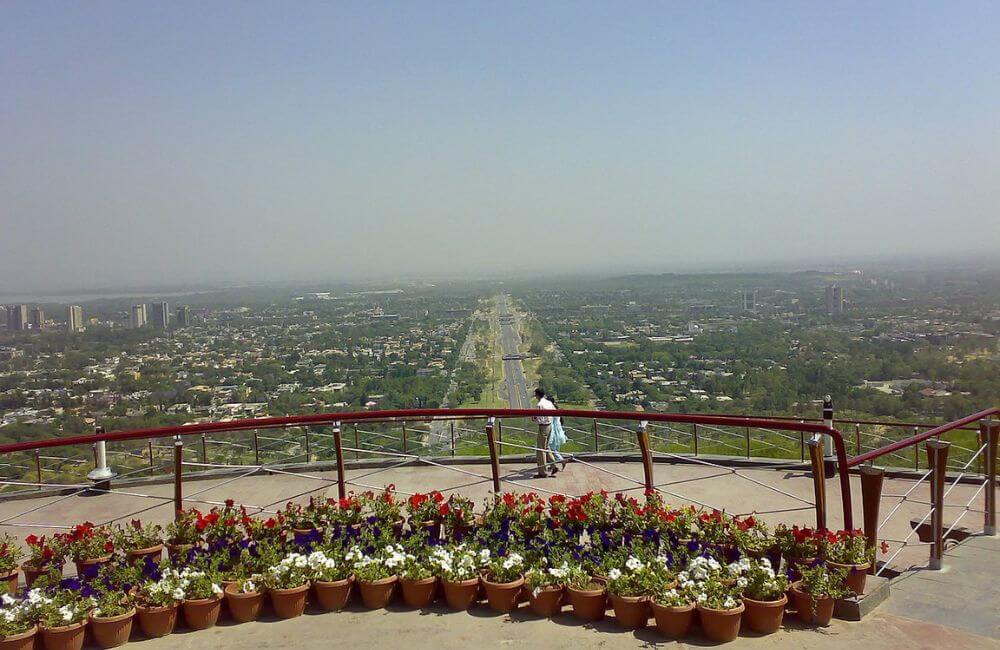 Daman-e-Koh is a special place in the Margalla Hills of Islamabad. It was established in 1980 and is Pakistan's third-largest national Park, covering a vast area of 17,386 hectares. Tilla Charouni, the Park's highest point, is also one of the highest points in the city.
Daman-e-Koh is a great place to visit for its stunning views of Islamabad and the surrounding areas. You can walk along the long paths and take pictures of the scenery or simply sit and relax in one of the many scenic spots. There is also a parking lot, so you can easily bring your car.
The Park has a variety of eateries where you can enjoy delicious food. And that's not all! There's more to do at the Park than just admiring the scenery. You can also visit the small zoo to see some animals or take your kids to the fun play area.
Location: Daman -e- Koh Rd, E-7, Islamabad, Islamabad Capital Territory 44000
Rose And Jasmine Garden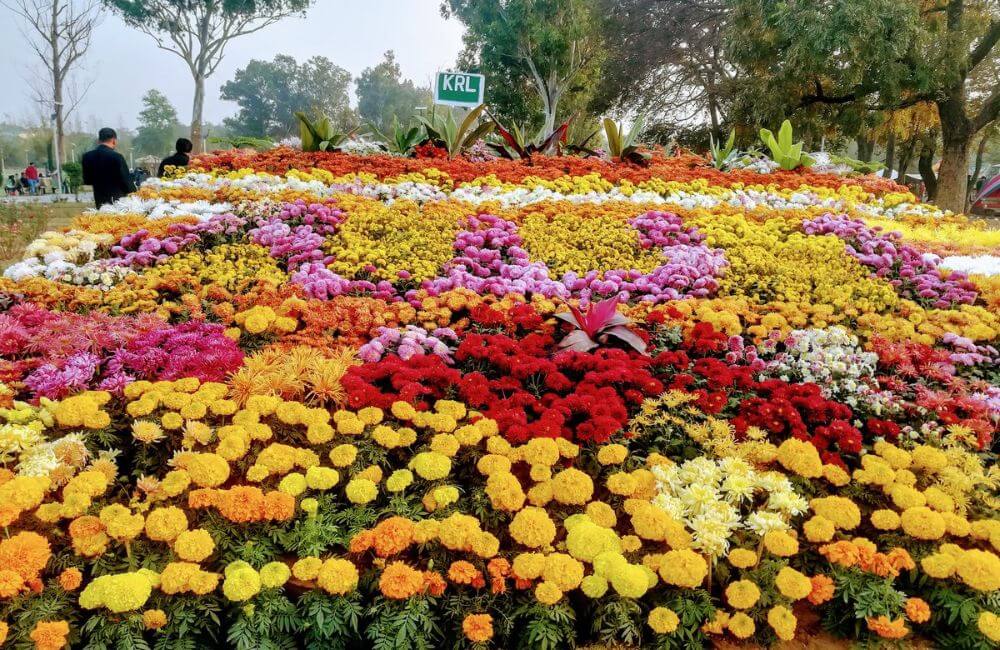 Rose and jasmine garden is located in Abpara. The main attraction of the Park is its beautiful flowers and plants. They have lots of different kinds of roses and jasmine. These flowers not only look amazing, but they also smell really good. 
If you want to see the flowers at their best, visiting during spring or early autumn is a good idea. That's when the flowers are in full bloom, and the whole Park is filled with colors. 
The Park isn't just about flowers. It's also a great place to have some fun. They have paths for riding bicycles and jogging, so you can exercise while enjoying nature. It's a nice way to stay healthy and have a good time.
One cool thing about the Park is that it makes you feel peaceful and relaxed. When you walk around, you'll hear birds singing and leaves rustling. The smell of the flowers is really soothing. It's like a break from the busy city life, and you can just enjoy the nature around you.
Location: Garden Avenue, Aabpara, Islamabad.
Japanese Children's Park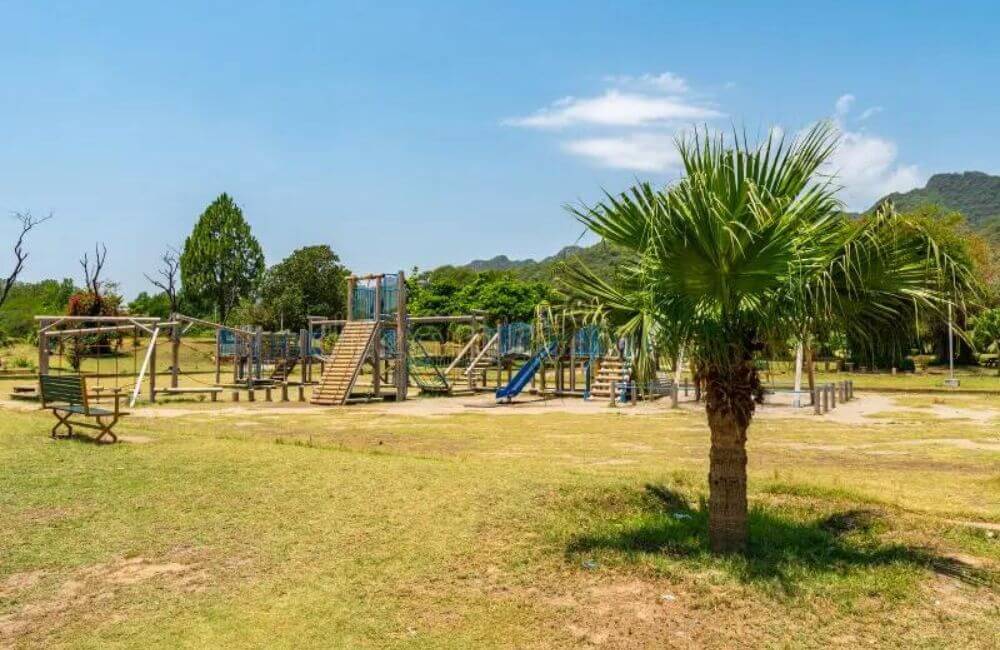 A Japanese park is regarded as a symbol of Japan and Pakistan's friendship. The Park is really cool for kids. There are lots of fun things for them to do, like swings, monkey bars, tree houses, and slides. It's like a playground made just for them, where they can have a great time.
When you go to the Japanese Park, you'll see lots of colorful trees that look like the ones in Japan. These trees make the Park look really pretty. If you want a nice walk, the paths in the Park are perfect. You can take a peaceful stroll and enjoy the fresh air. It's a great way to relax after a busy day.
Additionally, there's a small food area in the Park. You can get yummy snacks and drinks to keep you energized while you're having fun. Moreover, go to the top of the Park for an awesome view. You can see the whole Park and the hills around it.
Location: Main Margalla Road, near Pir Sohawa Road, Saidpur village, Islamabad
Also, Read Our Blog: Top 10 Best Swimming Pools in Islamabad
Dino Valley Islamabad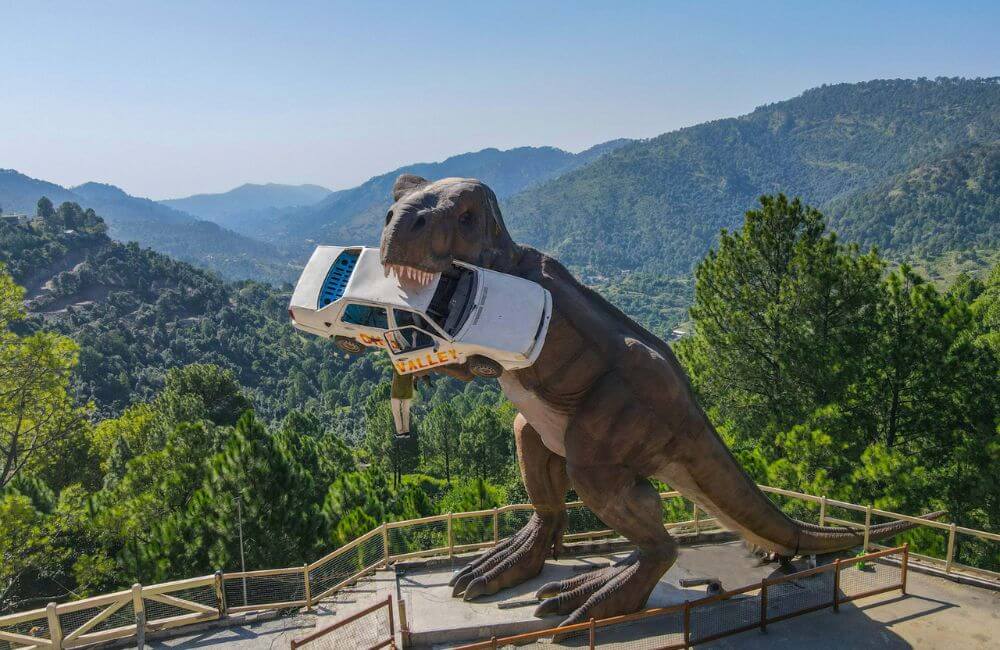 Dino Valley is a highly popular theme park located in Islamabad. The Park offers a fascinating look into the world of dinosaurs, making it a favorite of families, school groups, and tourists everywhere. Dino Valley is not only an excellent theme park, but it also offers excellent shopping options in Islamabad.
Attractions and displays aimed at enlightening visitors about the prehistoric era can be found throughout the Park. One of Dino Valley's highlights is its lifelike animatronic dinosaur exhibit, where life-size dinosaurs mimic real creatures by moving and roaring.
Aside from dinosaur exhibits, Dino Valley also offers dinosaur-themed rides, a flying dinosaur experience, a thrilling drop-down tower, and a dynamic 12D motion ride. The Park offers a variety of dining options, including a restaurant and multiple snack kiosks.
Location: Block G D-18 Engineering Co-Operative, Islamabad
Conclusion
Islamabad's parks encompass a wide range of attractions, ensuring that every visitor finds something captivating. Whether you're seeking tranquility, adventure, or cultural enrichment, these parks have it all. So, if you're in Islamabad, don't miss the opportunity to explore these famous parks in Islamabad and create lasting memories amid nature's beauty and urban charm.