Looking for a place to shop in Islamabad? Look no further than the city's famous shopping malls! These malls offer various stores, from high-end boutiques to affordable chain stores. You'll find everything you need to update your wardrobe, furnish your home, or just browse for fun. And with so many great places to eat and drink, you can make a day of it!
Here are just a few of the famous shopping malls in Islamabad:
So what are you waiting for? Start shopping today!
5 Most Famous Shopping Malls in Islamabad
There are many shopping malls in Islamabad offering a wonderful shopping experience. In this blog, we have gathered a list of 5 famous shopping malls in Islamabad. You can choose from these malls, depending on your needs and preferences.
Giga Mall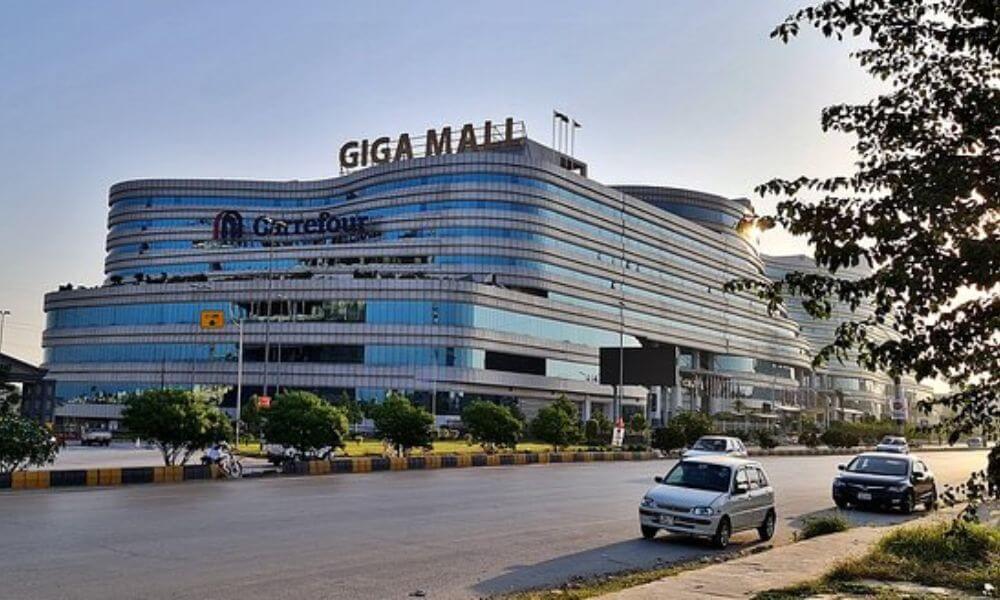 Giga Mall is one of the biggest and popular shopping malls in Islamabad. The Mall features a collection of over 200 leading international and local brands. The Mall offers various fashion, accessories, and footwear options from renowned brands like Zeen, Sapphire, Khaadi, Maybelline, Limelight, Bata, and many more. 
For food lovers, Giga Mall's food court is a culinary delight. It hosts a variety of local and international food chains, serving a diverse range of cuisines. Visitors can enjoy culinary options at the food court, which includes popular chains such as Pizza Hut, McDonald's, KFC, as well as local favorites like Pappasallis, Rewayat, etc.
Beyond shopping, Giga Mall also offers a range of entertainment options. The cinema at the Mall known as Cinipax offers most latest movies. You can enjoy movies after a long day of shopping. If you are not fond of movies, there are also other relaxing activities. You can consider swimming or getting a relaxing massage.
Giga Mall is not just for adults; it also has a dedicated area filled with fun and adventurous activities for kids. From exciting rides to interactive games, children can have a great time in a safe and supervised environment.
Giga Mall also has amenities like a fitness center, sauna, swimming pool, free Wi-Fi, ATM services, prayer room, toilets, etc, making it a convenient and enjoyable destination for the whole family. Whether it's a day of shopping, dining, or entertainment, Giga Mall promises an unforgettable experience for visitors of all ages.
Location: Main GT Road, Defense Housing Authority, DHA Phase II, Islamabad
Also, Read Our Blog: 15 Best Online Shopping Websites in Pakistan
Centaurus Mall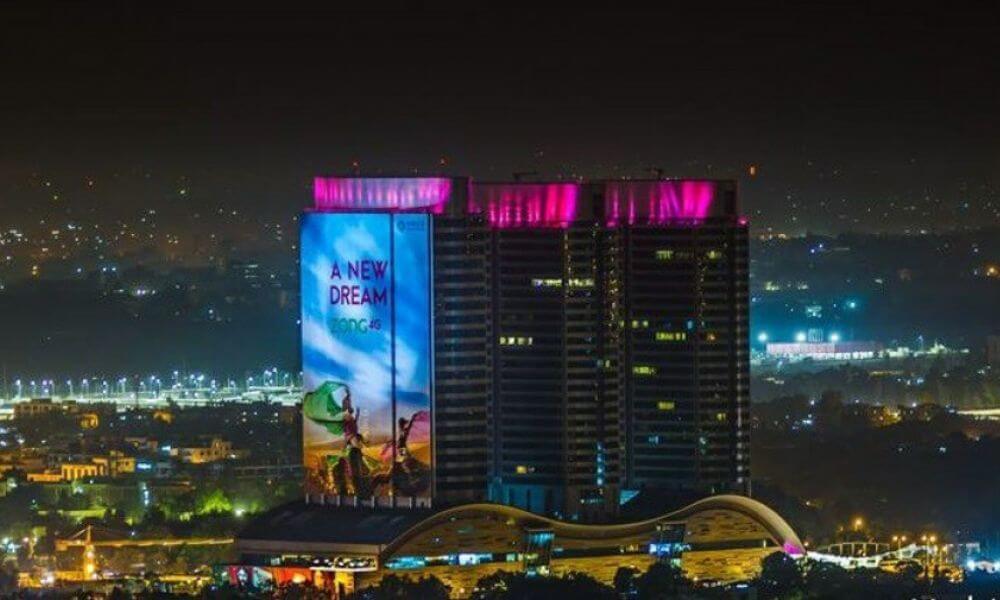 Centaurus Mall is one of the prominent and popular malls in the city, offering retail outlets, restaurants, entertainment options, and other amenities. The Mall caters to a diverse audience due to its eye-catching design. It is a one-stop shop for shopping, entertainment, and dining.
The Mall is known for its modern architecture and luxurious interior, creating a comfortable and enjoyable shopping experience for visitors. Some of the well-known international and local brands can be found here, making it a favorite destination for fashion enthusiasts.
In addition to shopping, the Mall provides various entertainment facilities, such as a cinema, play areas for children, and recreational spaces for families and friends to spend quality time together. The food court offers a variety of dining options, ranging from fast food to fine dining, ensuring there's something for everyone's taste.
Location: 4 Jinnah Avenue, F 8/4, Islamabad,
Safa Gold Mall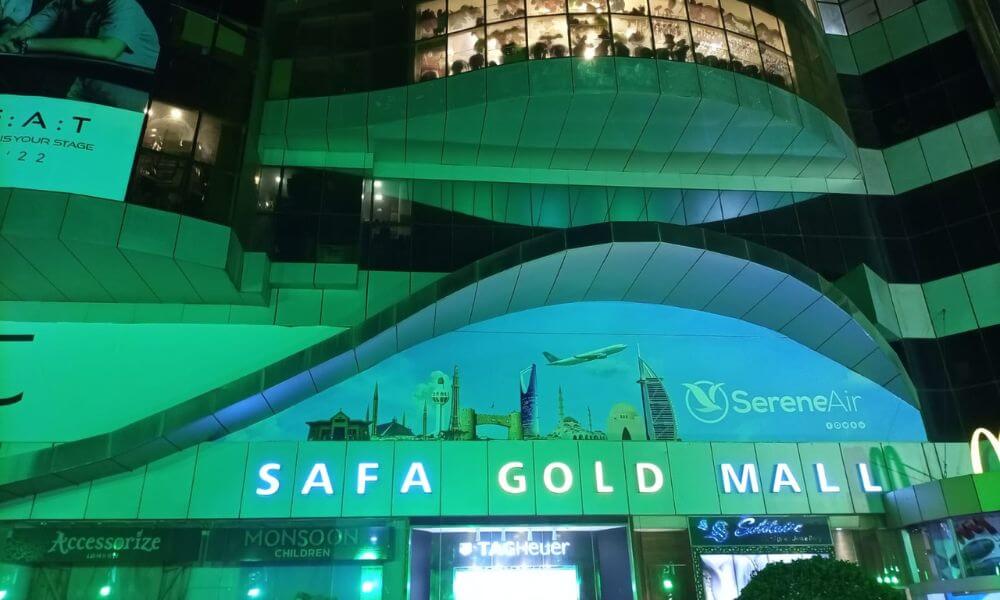 Safa Gold Mall in Islamabad is a fantastic place to go shopping. It has a great mix of fashion, entertainment, and yummy food in a safe and modern environment. Whether you love fashion and food or just want a fun family day out, Safa Gold Mall will give you an unforgettable experience. So, if you're in Islamabad, take advantage of the chance to visit Safa Gold Mall and have a shopping spree like never before!
This shopping center has a wide variety of famous fashion brands from all over the world. Whether you're looking for the latest high-end fashion, cool and trendy casual wear, stylish accessories, or classy shoes, the Mall has something for everyone's taste and style.
Apart from being a shopper's paradise, Safa Gold Mall offers an assortment of fun-filled entertainment activities that will keep both you and your family members engaged throughout your visit. Safa Gold Mall has a special activity area for young children and teenagers, which includes a bowling alley and various indoor rides. 
The Mall is equipped with modern facilities that enhance the overall shopping experience. Free 
Wi-Fi is available throughout the premises, enabling you to stay connected. For added convenience, escalators and elevators provide easy access to all levels of the Mall.
For those in need of financial services, the Mall houses ATMs of all the leading banks, ensuring that you have easy access to cash when required. Additionally, a dedicated area for prayers offers a tranquil space for visitors.
Location: Safa Gold Mall, Jinnah Super, F-7, Islamabad
Olympus Mall
Olympus Mall, located near F-11 Markaz, is one of the largest shopping malls in Islamabad. It looks different from other malls because of its curved design inspired by heritage. The Olympus Mall Islamabad is a five-story shopping mall with a diverse range of stores and food courts. The Mall is designed to provide a convenient shopping experience for consumers, with spacious passageways, wide steps, fast-moving elevators, and escalators. The Mall also features a number of amenities, including a children's play area, a movie theater, and a parking garage.
The Olympus Mall is a popular tourist destination for people looking for a unique shopping experience. The Mall offers a wide variety of well-known brands, as well as a variety of dining options in the food court. Visitors can also enjoy the rooftop dining area, which offers stunning views of the city. Families can also take advantage of the children's play area, allowing parents to shop peacefully while their kids play.
The Olympus Mall is located in the heart of the city, making it easily accessible to both locals and tourists. The Mall is open seven days a week and offers free parking for its customers.
Location: Plot 23, S 11, F-11 Markaz, Islamabad
Al-Janat Mall
Al Janat Mall is a heavenly destination for shoppers, earning its reputation as one of the finest shopping malls in the twin cities. Whether you're in search of branded clothing, jewelry, or shoes, this Mall has it all. You've found the perfect place, especially if you're looking for attractive and colorful clothes for your kids. The Mall boasts top-notch clothing brand outlets, making it the most stunning shopping destination in the city.
Al Janat Mall is a shopping paradise with a wide range of attractions. The shops here offer generous discounts and are committed to customer satisfaction. The Mall is conveniently located in G-9 Markaz, Islamabad, and attracts visitors from Rawalpindi as well as locals. This has made it one of the most popular shopping malls in Islamabad.
Conclusion 
Islamabad offers a delightful shopping experience with its famous shopping malls. Whether you're a fashion enthusiast, a food lover, or just looking for a fun family outing, these malls cater to all your needs. So, if you find yourself in Islamabad, don't miss the chance to explore these fantastic shopping destinations and create unforgettable memories with friends and family. Happy shopping!