In Pakistan, the cost of gold has decreased significantly, especially in the last four days. To simplify it, the price of a one-tola dropped by Rs. 26,600 during this time. In just five days, the gold price in Pakistan has dropped a lot. On September 8, 2023, in Pakistan, the price of 24-karat gold for one "tola" is Rs. 212,500/-.
At the beginning of the week, 24k gold was priced at Rs. 239,100 per tola, as reported by the All-Pakistan Sarafa Gems and Jewellers Association (APSGJA). As the week progressed, things got worse.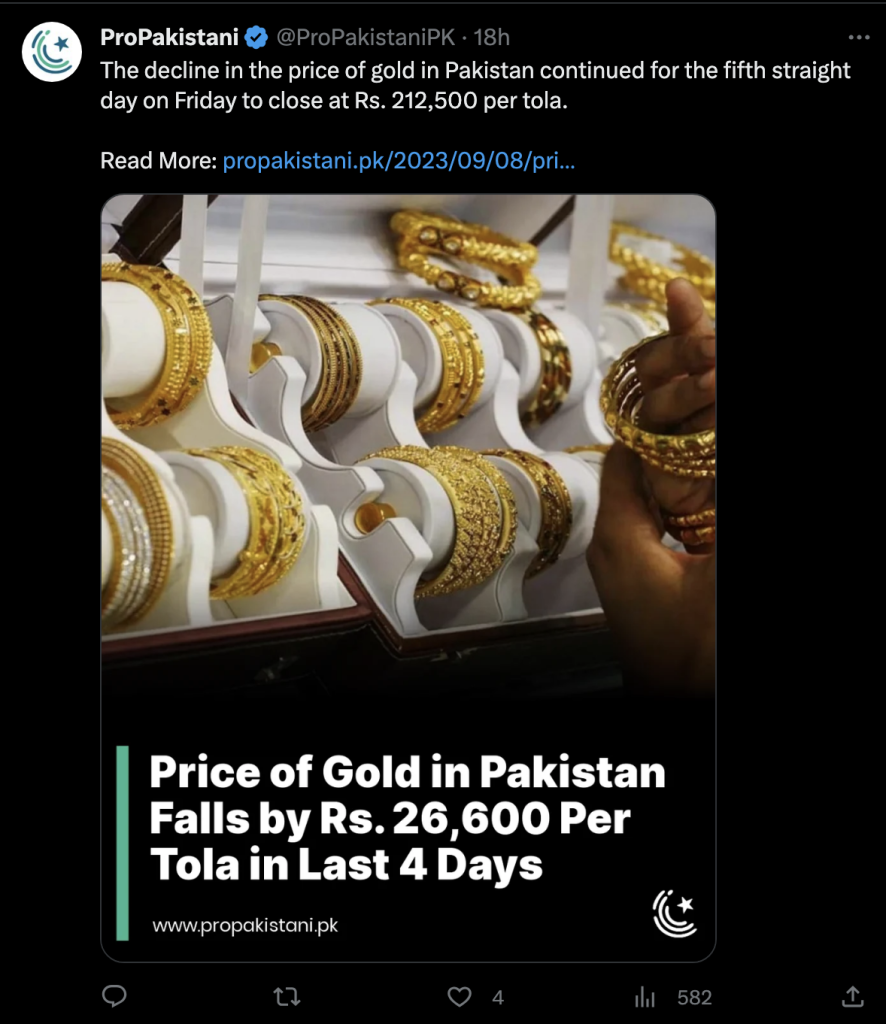 On Tuesday, the price decreased by Rs. 6,300 per tola, and on Wednesday, it dropped by Rs. 10,500 per tola, which was the most significant drop in a week. Thursday wasn't any better, with a Rs. 5,800 decrease in the price of a tola. This downward trend continued until Friday when the price for a tola reached Rs. 212,500. However, on September 9, the price remains constant i.e Rs.212,500 per tola. These prices are based on information from the local gold market in places like Karachi and Multan.
Here's a summary of the recent changes in gold prices:
| | | |
| --- | --- | --- |
| Date  | Price | Dropped by |
| September 9, 2023 | Rs.212,500 | – |
| September 8, 2023 | Rs.212,500 | Rs.4,000 |
| September 7, 2023 | Rs.216,500  | Rs.5,800 |
| September 6, 2023 | Rs.222,300 | Rs.10,500 |
| September 5, 2023 | Rs.232,800 | Rs.6,300  |
The price of gold can be influenced by various factors. These ups and downs in gold prices are because of different things, like how the world's economy is doing, the exchange rates for currencies, and how people feel about the market. One of the main reasons for the recent drop in the international market. Spot gold increased by 0.2% to $1,923.63 per ounce in the global market, and US gold futures went up by 0.3% to $1,947.60 per ounce. Changes in the global market directly impact the price of gold in Pakistan.
Today's Gold Price in Pakistan – 9 September 2023
These prices given above apply to various cities in Pakistan, such as Karachi, Lahore, Islamabad, Peshawar, Faisalabad, Hyderabad, Rawalpindi, Quetta, and Multan. The gold rates are quite similar across these cities, with only slight variations of a few hundred rupees.
| | |
| --- | --- |
| City | Gold |
| Lahore | PKR 212,500 |
| Karachi | PKR 212,500 |
| Islamabad | PKR 212,500 |
| Peshawar | PKR 212,500 |
| Quetta | PKR 212,500 |
| Sialkot | PKR 212,500 |
| Attock | PKR 212,500 |
| Gujranwala | PKR 212,500 |
| Jehlum | PKR 212,500 |
| Multan | PKR 212,500 |
| Bahawalpur | PKR 212,500 |
| Gujrat | PKR 212,500 |
| Nawabshah | PKR 212,500 |
| Chakwal | PKR 212,500 |
| Hyderabad | PKR 212,500 |
| Nowshehra | PKR 212,500 |
| Sargodha | PKR 212,500 |
| Faisalabad | PKR 212,500 |
| Mirpur | PKR 212,500 |
Related Blog
CDA Cuts Down Monthly Fuel Quota for Officers
CDA is Considering to Increase Metro Bus Fares Up-to 100% in Islamabad